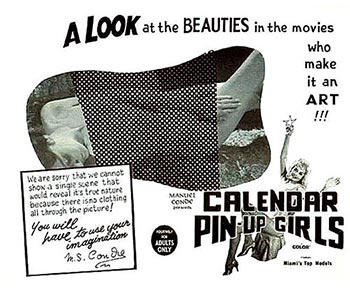 Calendar Pin-up Girls (1966)
Genre: "Documentary" | Comedy | Nudie
Country: USA | Director: John Roscoe
Language: English | Subtitles: None
Aspect ratio: 1.33:1 | Length: 84mn
Dvdrip H264 Mp4 – 700×524 – 29.970fps – 1.37gb
https://www.imdb.com/title/tt0134406/
Ever wonder what goes on behind the scenes in making one of those old-school Nudie-Cutie girly calendars? Yeah, well, neither have we. Nevertheless, Calendar Pin-Up Girls is going to show you the A to Z of how it's done. So enter the Miami studio of Conde Productions and meet "M.S. Conde, nationally known photographer and technical director, and right now he's taking a repeat order for a calendar. Now this, of course, will be no ordinary calendar. Every month will be represented by a beautiful girl! And who doesn't like looking at a pretty face or a figure?" Especially when those pretty faces and figures belong to some of the best known models then working in the Florida skinflick business.
Like SANDY SINCLAIR, the gal who gets her leg cut off in Blood Feast, and the star of Scum of the Earth. Sandy is Miss January, and sits topless on a some coral wearing a mermaid's tale as fake fish are dangled in front of her.
Miss February sits naked with a fishing pole on a fake dock as two cardboard fish stick out of the "water" and smile at her.
Miss March lies on her bare back dreaming of sheep.
Naked Miss April holds a cape in front of her like a bullfighter; while Miss May holds what looks like a tablecloth in front of her essential privates.
Miss June acts shocked as a prop crab runs off with her bra; Miss July doesn't like working with a guy in a lion suit so just poses naked in front of a lion drawn on a backdrop; and Miss August poses as "the legendary farmer's daughter."
Miss September is none other than nudie-vet DELORES CARLOS (The Beast That Killed Women) whose arms are bound by jewelry.
Miss October has a fake scorpion stuck onto her bare butt; Miss November poses like a Greek goddess; and Miss December simply looks shocked.
Personally, we prefer the posed version of the photos rather than the final calendar version which has been needlessly gussied up with lousy art.
Produced and photographed by MANUEL S. CONDE, Calendar Pin-Up Girls (aka Calendar Pin-Ups) almost plays like a documentary except, of course, there's more emphasis here on the nudity than there is on the f-stop. Oddly enough, while Mr. Conde lets the cameras into his real-life studio, the "M S. Conde" seen on screen is not – repeat: NOT – really Manuel S. Conde. Nope, the on-screen Conde is an actor with the real Conde safely behind the camera and out of sight. Conde, of course, started making films in Cuba (Girls on the Rocks, Cuba Confidential), came to Miami in the early Sixties, and dove headfirst into the Florida exploitation scene, directing most of Lullaby of Bareland, all of The Case of the Stripping Wives, and the nudist camp scenes for Secrets of an Undercover Model, before settling in Santa Monica and continuing a sexploitation career by producing and directing such skin gems as Deep Jaws, The All-American Girl, and The Danish Connection.
And remember: "A photographer must be an artist and not simply a mechanic." Hey, who knew? —