Electric Shades of Grey (1971 – 2001)
aka The Psychedelic Priest
Genre: Drugsploitation
Country: USA | Director: Terry Merrill & William Grefe
Language: English | Subtitles: none
Aspect ratio: 1.33:1 | Length: 80mn
Dvdrip H264 Mkv – 710×540 – 29.970fps – 1.26gb
http://www.imdb.com/title/tt0291885/
Audio 2: Commentary with Director William Grefe and Frank Henenlotter
Filmed in 1971 but not released until 2001 on video.
Originally titled Electric Shades of Grey (the on-screen title of SWV's pristine print), The Psychedelic Priest is a real rarity from the tail end of the hippie movement. According to cinematographer (and unbilled co-director) WILLIAM GREFE, the producer raised the film's budget by promoting trading stamps (!), and the shooting schedule demanded a certain amount of improvisation, because the amount of script that had actually been prepared could have fit nicely on the back of an LSD tab. Yet despite these dubious beginnings, The Psychedelic Priest emerges as an interesting and, at times, disturbing little film which manages to use its exploitation base to air some not so flattering views on religion and faith.
John (JOHN DARRELL) is a young priest with a Beatle haircut who tries to teach college students about the ways of the Lord. When he catches a group of kids smoking pot, he almost bores them straight with a lecture on getting their diplomas. They retaliate by offering him a Coke laced with acid. Within moments, Father John is off on a wild trip, stumbling around the college to the accompaniment of rock music and the usual freaky camera effects. He makes it to his chapel, hoping it will provide him with sanctuary, but is confronted only with flashing lights, grandiose organ music, and the voice of his dad which indicates that a clerical life was not entirely of John's choosing. His dramatic trip ends with him ripping off his sacred white collar and throwing it to the ground in disgust.
John then abandons the church and takes off on a journey to find himself. En route to L.A., he picks up a pretty young blonde named Sunny (CAROLYN HALL) and the pair instantly bond and smoke pot like there's no tomorrow. But John's religious upbringing has made him ignorant to the real ways of the world and, after encountering racist cops and being abandoned by Sunny after she confesses her love for him, his life soon spirals out of control. Destitute, he wanders the streets in an alcoholic haze, gets harassed by hippie haters, and even begs other hippies for change…or drugs. He finally reaches rock bottom when he scores a dose of smack from a black dealer in a leopard-skin-hooded car…
Though originally scheduled to be released by Joe Solomon (as The Psychedelic Priest), plans were scuttled when Solomon and producer-director (STEWART MERRILL got into an ugly screaming match and the film ended up languishing on the shelf for the past three decades. Looking at it now, it's a unique time capsule highlighted by Grefe's photography which gives the film the stark minimalist look of a high school drug education short. Add lots of fuzz guitar rock (and a title tune belted out by nightclub crooner MITCH MITCHELL), and you've got a choice dose of acid-fueled nostalgia that's almost worth missing Sunday church for.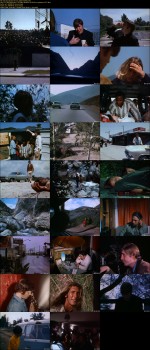 Electric Shades of Grey (1971 – 2001)