Eurociné 33 Champs-Elysées (2013)
Genre: Documentary
Country: France | Director: Christophe Bier
Language: French | Subtitles: English (Hardcoded)
Aspect ratio: Widescreen 1.85:1 | Length: 66mn
Dvdrip Xvid Avi – 720×416 – 25fps – 1000mb
http://www.imdb.com/title/tt2802928/
For years Eurociné wasn't taken at all seriously by "respectable" film critics. Completely overlooked or at best dismissed as grade Z movies, the Eurociné's legacy has is finally undergoing a well-deserved rehabilitation. Simply reading the titles of some of the hundred-plus movies produced by Eurociné indicates that these are films that demand renewed viewing: Golden Temple Amazons, The Sadistic Baron Von Klaus, The Mistresses of Doctor Jekyll, A Virgins for St Tropez, Zorro Amorous Campaign, Female Vampire, The Man with the Severed Head and Pigalle: Crossing of Illusion.
Eurociné was the brainchild of Marius Lesoeur, a carnival industry mogul who employed the same recipes for cinema that he'd developed in order to attract enthusiastic audiences . . . primarily strip-tease acts and exotic wildlife. At the time French audiences were mesmerized by the sight of an amarillo from Texas. Launched in the early 1960s, the formula was simple but effective. It consisted mainly of shapely women, moderate nudity, senseless violence, and stylized action. Often lacking financial resources, Marius was well known for his minimal budgets for directors and actors, forcing them to rely on ingenuity. In this way, Mr. Lesouer's Eurociné produced a wild array of bizarre fare: the invisible man making love in the country to a sensuous woman, deranged scientists, Zombie Nazis far ahead of their time, jungle girls, voodoo cults, Nazisploitation, horror flicks, melodramas, cannibals, sexy comedies, Euro Westerns, and sex education films. In its time, Eurociné fulfilled the dreams of people addicted to exploitation cinema. In effect, Marius Lesoeur operated as the Roger Corman of France during roughly the same time period, only cheesier. Although it was a maverick film production company, Eurociné was nevertheless located at a prestigious Parisian address: 33 Champs Élysées.
Eurociné's brilliant documentary director Christophe Bier possesses a deadpan humor that evidences a true love for these "So bad they're good" films. Mr. Bier has genuine enthusiasm for the spirit of Ed Wood that resides in Marius' Eurociné. With his swashbuckling humor and verbal grandstanding, Mr. Lesouer was able to galvanize even the most depressed director into action. The French saying ''Impossible n'est pas français'' (''Impossible is not French'') derives its meaning from the irrepressible Marius Lesoeur. In Mr. Bier's documentary, Jean-Pierre Bouyxou, a counter-cultural journalist and sometimes screenwriter of Nazisploitation films like Fraulein Kitty, explains that one day the filming was too hectic to let him write dialogue for the actors to speak. He was at his wit's end when Marius explained to him that the actors simply needed to mumble "1 ,2 , 3 and simply do a Nazi Salute." The dialogue could easily be dubbed in later in the process. This trick was frequently used in many Eurociné films, along with recycling costumes and using the same footage in more than one movie. Anything to save a buck!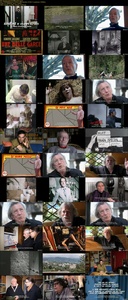 Eurociné 33 Champs-Elysées (2013)