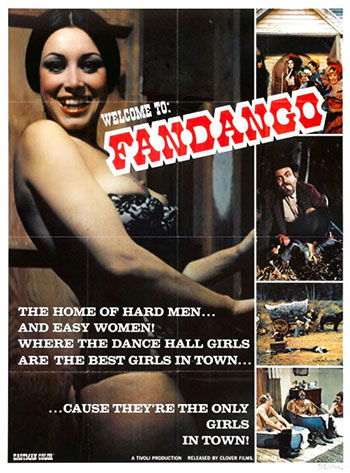 Fandango (1969)
Genre: Western | Erotic
Country: USA | Director: John Hayes
Language: English | Subtitles: None
Aspect ratio: 1.33:1 | Length: 70mn
Dvdrip Xvid Avi – 640×480 – 23.976fps – 830mb
http://www.imdb.com/title/tt0121266/
When a group of gold prospectors decide to take the beautiful women of pleasure of the Fandango Saloon away from a lecherous gang of outlaws, the ornery crooks don't take it so easily. Shootings and kidnappings ensue, with the gals and good guys battling against the nasty criminals. Sexciting Western exploiter – softcore. Ripped from a SWV dvd-r. This is as crappy as you expect it to be – in a good way!
Dan Murphy (JAMES WHITWORTH) is the huge, Grizzly Adams-type leader of a group of slobbish gold miners camping out in the wilds and, with no women around, going plumb loco from frustration. (They vent their anger by having wild brawls with their enormous beer guts wobbling obscenely as they throw pathetic punches.) After shooting the nose off the dastardly Muck Mulligan (SEBASTIAN GREGORY of Help Wanted Female) — the only real rotter amongst the group — Dan and a couple of his buddies make the long trek into town to bring back a bunch of good time gals from the Fandango, a saloon/whorehouse operated by his old flame Mona DeLyse (melon-breasted SHAWN DEVEREAUX, who exhibits all the acting range of a tumbleweed).
Arriving at the Fandango, Dan has a run in with Muck Mulligan before reacquainting himself with Mona's mountainous charms. The next morning, he heads back to the gold mine with Mona and "wagons filled with wicked women" whom the homy miners greet with anything but gentlemanly decorum: "The sooner we get mounted up, the sooner we get to screwin'!" Much wild gang-banging ensues, with director JOHN HAYES (Grave of the Vampire) never missing an opportunity to insert closeups of Devereaux fondling her impressive bosom (particularly in one scene where she tries — amazingly, without success — to seduce a repressed preacher type).
His men thoroughly shagged out, Dan leads the girls on their return trek back to the Fandango but is ambushed and shot by Muck Mulligan who orders the girls to strip and line up against the wagon. Unfortunately for him, Mulligan gets so caught up in slobbering over Mona's jugs that he fails to notice the girls retrieving their long, sharp hair pins… Strike one pioneering blow for women's lib!
Although it features some of the cheapest sets to grace a western since Ed Wood's Streets of Laredo, Fandango is still required viewing for all us smut lovers out on the prairie.