Go, Go Second Time Virgin (1969)
aka Yuke yuke nidome no shojo
Genre: Pinku | Drama | Erotic
Country: Japan | Director: Kôji Wakamatsu
Language: Japanese | Subtitles: English, French, Spanish,
Italian & Portuguese  (Optional, embedded in Mkv file)
Aspect ratio: Cinemascope2.35:1 | Length: 65mn
Dvdrip H264 Mkv – 958×396 – 23.976fps – 1.09gb
http://www.imdb.com/title/tt0065233/
After being raped in an unknown rooftop, nineteen year-old girl Poppo meets a mysterious boy, and both share their sexual traumas and fears, with fatal consequences.
Koji Wakamtsu's "Go, Go Second Time Virgin" is a classic pinku eiga film. Wakamatsu was raised to be a farmer but made his move to the big city and tried his hand at being a gangster and a convict before he found his true calling as Japan's most notorious experimental movie director, who made over 30 films between 1963 and 1974, many of them too raw and disturbing to be shown in theaters but acclaimed at fine-film festivals.
"Go, Go Second Time Virgin" tells the story of of Poppo (Mimi Kozakura), a young girl raped (for the second time in her young life) by a gang of street ruffians one August night in Tokyo. Left bleeding on a rooftop, she survives the night and meets Tsukio (Michio Akiyama), a fellow teenager with problems of his own. Together they explore the darker side of life and sex, with Poppo's suicidal obsessions matching similar threads in Tsukio's unsuccessfully published book of poetry. The joy they find in each other inflames their rage at the unjust world around them,and their love engenders a tragic killing spree.
"Go, Go Second Time Virgin" is a beautifully shot film and the cinematography is brilliant. Most of the film is in gorgeous black-and-white, with a few tinted sequences and a full-color flashback to Tsukio's unfortunate orgy experience. So if you are a fan of Japanese art-house exploitation give this one a look.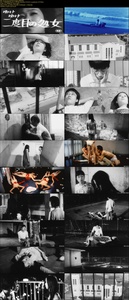 Go, Go Second Time Virgin (1969)