Hollywood's World of Flesh (1963)
Genre: Documentary | Mondo | Nudie
Country: USA | Director: Lee Frost
Language: English | Subtitles: None
Aspect ratio: 1.33:1 | Length: 64mn
Dvdrip Xvid Avi – 640×480 – 29.970fps – 1013mb
https://www.imdb.com/title/tt0125157/
An American equivalent of the Italian "Sexy" mondos (such as Sexy Proibitissimo, Sexy Magico, Sexy Nudo, and Super Sexy 64), this hilariously bogus "documentary on the film capital of the world" is more cynical sexploitation from director R. LEE FROST and producer BOB CRESSE, the loveable hucksters who gave the world Mondo Freudo and Mondo Bizarro (as well as such nasty gems as Love Camp 7 and The Scavengers).
"A most unusual experience in motion picture entertainment," and one typically full of outrageous Cresse hyperbole, Hollywood's World of Flesh "is about the back side" of Tinseltown, "the side that takes a man three good years of hard, ingenious work to find," and which took "two complete motion-picture units thirteen months to compile." Translation: not only is everything fake, but it probably took all of three days to shoot! That said, who cares? So it ain't real, big deal. The fun here is in the fix, and for a film promising "flesh," Hollywood's World certainly delivers. Besides, it's all the more entertaining being in on the joke….
Starting in the gutter and working its way up to a backyard orgy at a Hollywood mansion, Hollywood's World of Flesh begins the tour with a look at the adult book stores, grindhouses, and bums of skid row: "Here, a connoisseur of sin can really get his fill." At a dingy Main-Street bar, BABY BUBBLES strips and twirls those tassels: "If this girl was to let you write her story, it would probably melt your plastic pen!" As she performs, an old whore zeros in on a john: "She has waited patiently until the strip act has aroused the customers. Now she has made her move…."
We visit the then-popular phenomenon of "Figure Model Photography Studios" and watch a group of "junior executives" click away at three naked gals…. An Asian stripper then performs for "a Secret Oriental Sex Club" in "the basement of an old deserted building," and a lesbian-flavored strip act entertains the members of "a private club in the Hollywood Hills…."
A prostitute who wants to be an actress is interviewed — "I wanna act! You look at the big ones today, the big stars, they're hookers everyone!"– and various gals strip and pose for producer "Rod Fairchild" who's really — yup, you guessed it — Bob Cresse. After seeing Bob… er, Rod on the set of a nudie he's making, we sneak a peek at one of his midnight pool parties ("Four motion-picture cameras have been hidden throughout this patio area…") complete with naked gals doing the twist while Cresse runs around maniacally yanking women's clothes off. What a pro.
Essential viewing for Cresse and Frost fans, Hollywood's World of Flesh even made a cameo in the 1965 cult gem Who Killed Teddy Bear: Sal Mineo walks up to New York's World Theatre, studies the garish art and photos for Hollywood's World of Flesh and Call Girl 77 (aka Surftide 77), then buys a ticket and enters, just as a family with kids walk past! Though now deceased, Cresse is probably still chuckling….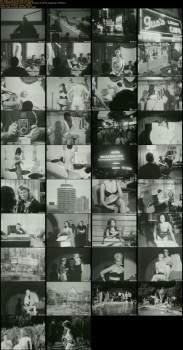 Hollywood's World of Flesh (1963)