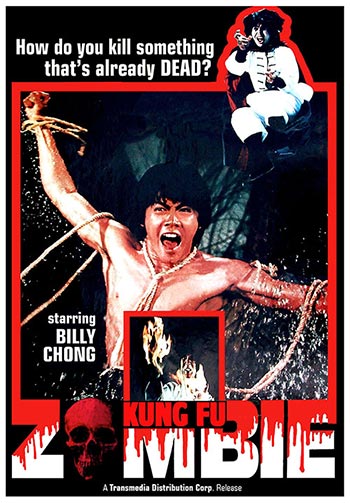 Kung Fu Zombie (1982)
aka Wu long tian shi zhao ji gui
Genre: Kung Fu | Action | Horror | Comedy
Country: Hong Kong | Director: Yi-Jung Hua
Language: English | Subtitles: None
Aspect ratio: Widescreen 1.85:1 | Length: 79mn
Webrip H264 Mkv – 960×540 – 25fps – 1.35gb
http://www.imdb.com/title/tt0199148/
A criminal comes to town in order to kill Billy Chong over a past dispute. But instead of getting his own hands dirty, he hires a Taoist wizard to animate some zombies to do the job for him. The plan goes horribly awry, and the bad guy ends up getting killed in his own trap. This pisses off the villain's spirit and he forces the priest to reincarnate him – only they can't find a suitable body. Meanwhile, an undead fiend of sorts comes to town to kill Billy's father over some other past dispute. This is where all of Billy's kung fu training comes in handy, and he manages to kill the attacker. With this, the other bad guy finally has a body to use, but the reincarnation goes wrong and the corpse is reborn as a vampire.
Kung Fu Zombie is a charming flick loaded with fast paced martial arts fighting. The story is too over the top to try to explain here, but it's worth mentioning that this film has zombies, ghosts, a vampire, a wizard, possessions, an exorcism, paintings that shoot lasers out of their eyes and a healthy does of well executed kung fu! All of this is packed into a film on the short side of 80 minutes. Intentionally funny, Kung Fu Zombie is a hilarious, tightly edited, romp of a film. The big pay off is at the end of the film when Billy Chong fights an undead vampire martial arts master. The energy and absurdity of this scene is magnificent. If you're expecting a lot of zombies, you may be disappointed, but if you're looking for an entertaining ride on the wonderful roller-coaster of crazy kung fu films, Kung Fu Zombie won't disappoint!