Naked and Free… The New Life Style (1968)
aka Heißer Sand auf Sylt
Genre: Comedy | Drama | Nudie
Country: West Germany | USA | Director: Jerzy Macc
Language: English | Subtitles: none
Aspect ratio: 1.33:1 | Length: 93mn
Dvdrip H264 Mp4 – 692×508 – 29.970fps – 1.49gb
http://www.imdb.com/title/tt0063053/
"I know what you need and I know what's wrong," says the swingin' playboy PETER SAVAGE to his morose friend Walter Bergmann. "What's wrong is, that suddenly you realize that you are middle-aged like me. What you need is…some of that.""That" being some of the free-lovin'"new generation," such as Savage's cuddly little "pussycat" Ava, seated by his side. They're in what looks like a typical L.A> cocktail lounge–complete with topless go-go girls and a black lounge act singing the title tune ("Everyone is so afraid and I'm so frightened too, of Vietnam and Korea and now Red China too!")–but a strange thing happens when Walter Bergmann leaves the place. Once outside, he's suddenly played by a different actor for the rest of the film: suave HORST TAPPERT (of School of Fear and She Killed in Ecstasy) who bears only the slightest resemblance to the guy playing him in the cocktail lounge which, it turns out, isn't supposed to be in Los Angeles but somewhere in Germany.
Yes, kiddies, Naked and Free The New Life Style is another cinematic mutant: a 1968 German skinflick shown on these shores with U.S. -shot footage added by the above Mr. Savage, who not only shows up again later on — with an angry Ava who tells him she's pregnant, then gives him a blowjob — but brings his boxing buddies JAKE LA MOTTA and ROCKY GRAZIANO along for the ride!
Eager to consummate a business deal with jet-set playboy Rolf Eden (played by, of all people, ROLF EDEN), unhappily married Walter Bergmann, "a unhip guy" who "doesn't drink, doesn't lay, and doesn't sniff," heads to the resort island of Sylt in the North Sea where the big attraction is the nude beaches. (And the nude beaches are what "Special Guest Stars" La Motta and Graziano are seen ogling like two idiot burlesque comics.) Though "the groovy bunch" that Eden hangs out with mock Bergmann as a hopeless square, sexy blonde Renate (RENATE VON HOLT) is attracted to him and, ignoring her free-spirited, frequently naked, and bi-sexual roommates, begins a fling with the old coot: "Now he's started grooving!"
Tappert is not only sympathetic as Bergmann but manages to retain his dignity in a film that is eager to destroy it. Rated X when released here in 1971 by Dot Distributing, Naked and Free The New Life Style contains a number of nude scenes which also look like possible U.S. inserts and, if so, blend in rather well. Though La Motta previously starred in the nudie Confessions of a Psycho Cat — which may or may not have been a nudie when he was working on it — his appearance here is no doubt due to his friendship with Savage who co-authored his autobiography Raging Bull: My Story. In fact, La Motta previously starred with Savage in the 1969 X-rated war opus House in Naples which Savage also wrote, produced, and directed. Mr. Savage later directed the 1974 blaxploitation obscurity The Shall Overcome, and can be spotted playing bits in Scorsese's Taxi Driver, New York New York, and not surprisingly, Raging Bull.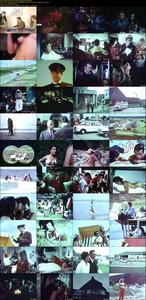 Naked and Free… The New Life Style (1968)