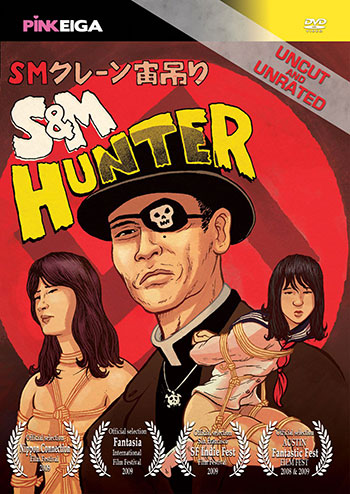 S&M Hunter (1986)
aka Kinbaku · SM · 18-sai
Genre: Pinku | Comedy | Erotic
Country: Japan | Director: Shûji Kataoka
Language: Japanese | Subtitles: English (Hardcoded)
Aspect ratio: Widescreen 1.85:1 | Length: 61mn
Dvdrip Xvid Avi – 720×384 – 23.976fps – 1.09gb
http://www.imdb.com/title/tt0287523/
When the all-girl gang, The Bombers, kidnap a man to use as their personal sex slave, S&M Hunter accepts the mission to infiltrate The Bombers' hideout and show them the ropes.
Shuji Kataoka, the man behind "Subway Serial Rape" series, directs yet another vastly entertaining flick. The main themes of pinku eiga genre are all here, mainly bondage, rape and total submission of the females. This time though they're not here only to titillate or offend potential viewers. Their other intention is to make public laugh.
The plot of "S&M Hunter" is very cartoonish, definitely manga-influenced. The character from the title, unbeatable master of the whip, is impossible to be taken seriously. His bondage mastership is so great, that he can do wonders with the rope. He ties up women in a way that makes them utterly excited, and therefore absolutely helpless. No female alive can resist him! Our hero works in the exquisite bordello, that specializes in all kinds of perversion. There's something for everyone – sadism, masochism, even paraphilia! But one of the clients is dissatisfied. It turns out that he's not really a sadist. In fact, he is gay and hates women for just one reason. The girl gang, called The Bombers, has kidnapped his partner to use and abuse as a personal sex toy. S&M Hunter gladly accepts the job to rescue the boy and punish the kidnappers. With the help of always reliable rope this task will be pure pleasure for S&M Hunter. And for all of his female opponents: pleasure mixed with pain!
The movie is traditionally short (around one hour), and filled with attractions typical for Japanese erotic cinema. There's also some Nazi imaginary (swastikas, leather gestapo uniforms, etc.) to please all the fetishists out there. One thing's for sure. We shouldn't take any of this stuff too seriously. It's just plain fun.
One curious detail: Quite probably the true message of "S&M Hunter" is the praise of homosexuality. Just check out the scene of gay lovers' happy reunion. Are we led to believe, that true and pure love can exist only between the two males?!? Or is it just another joke played on us by Shuji Kataoka?