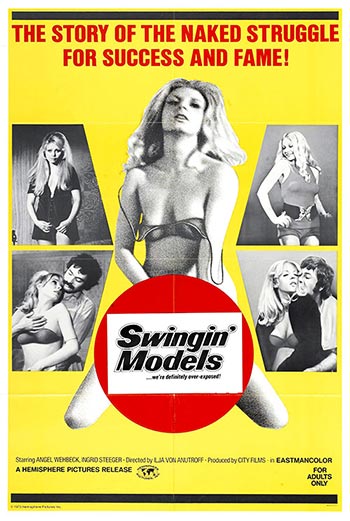 Swingin' Models (1972)
aka Bed Career
aka Bettkarriere
Genre: Comedy | Erotic
Country: West Germany | Director: Ralf Gregan
Language: English | Subtitles: None
Aspect ratio: 1.33:1 | Length: 92mn (movie + trailers)
Dvdrip H264 Mkv – 774×576 – 24fps – 1.45gb
https://www.imdb.com/title/tt0068269/
Fact of life: in the Seventies, everyone was swinging. There were swinging barmaids, swinging cheerleaders, swinging co-eds, swinging debs, swinging pussycats, swinging stewardesses, swinging wives, and campus swingers. Not to be outswung, here are the Swingin' Models, another Seventies-style German sex anthology which might have better been titled "Swingin' Ho's" since the focus here is on women who are willing to sell themselves to the highest bidder.
After photographing a sexy topless model making out with a leering mannequin (!?), seen-it-all, done-it-all photographer Felix (CLAUS TINNEY who also wrote the screenplay) attempts to audition Astrid, a wannabe model. But no, nope, she won't make it with the dummy — even after Felix gallantly tries to help "the ungrateful bitch" by exposing her tits. "I don't want to be a whore, that's all there is to it," Miss Astrid firmly announces. "I'm not going to be another filthy picture hidden in a drawer to give a few horny old men vicarious pleasures!" Which, of course, begs the question of why she answered his ad in the first place. Nevertheless, Felix invites Astrid to join him at a fancy party in a fancy mansion filled with fancy former models "to see what a tragic end is in store for these women who've made 'bed' a career…."
Such as former model Christine, who "can smell a rich man a hundred miles away," and eagerly lets herself be brought home by "old lecher" Hugo Schmitz. But while Hugo "can offer women all the goodies of this world, he can't offer them anything in bed." His solution: he suggests a threesome between himself, Christine, and his houseguest Roy, "a ten-cent stud" who thinks he's a rock 'n' roll star despite the on screen evidence. Trouble is, Roy would rather have Christine all to himself and leaves his boss to the tender mercies of an 8mm stag film….
Posing in the nude brought such notoriety to Erica (Euro-cult fave INGRID STEEGER) that wealthy Walter Von Franken and his sultry wife Sylvia are attracted to her. Bringing Erica and her jealous fiancé Peter back to their home, the Von Frankens quickly split the couple up with the aid of a 2-way mirror. So successful are they, that Erica is now the new Mrs. Von Franken and "the Queen of that perverted life they call High Society!"
"Movie-star of the year" Suzanne got her start doing a cheesy porno-film three-way with a director and a makeup girl…. And even Astrid's old friend Angie is now the wife of a crown prince after letting the man screw her in an elevator….
All of which gives Astrid ideas. So while Felix leaves the party to go to a hooker bar called "Club 007," Astrid plays sex games with horny old Hugo and a butler….
Tossing away the usual "educational" and sociological moralizing German sex films love to wallow in, Swingin' Models is, instead, simply cynical through and through, with each of its vignettes proving again and again that sex is the most beautiful, natural, and wholesome activity money can buy.