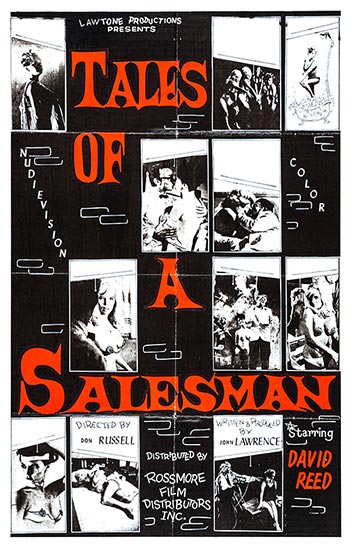 Tales of a Salesman (1965)
+ Bonus Short Rent a Girl
Genre: Comedy | Nudie
Country: USA | Director: Don Russell
Language: English | Subtitles: None
Aspect ratio: Widescreen 1.66:1 | Length: 73mn
Dvdrip H264 Mkv – 854×528 – 29.970fps – 1.02gb
https://www.imdb.com/title/tt0259035/
Did ya hear the one about the traveling salesman who… yeah, well, this one's different….
"I'm a poltergeist! I'm the gremlin of the spirit world and I do awful things! But, man, do I have fun! Right now, I'm here on your planet trying to help a salesman with problems…." And the salesman this invisible being from "the Salesman's Spirit World" chooses to help is Herman (DAVID C. REED who looks like a cross between Bill Kerwin and Roger Gentry), a man who absolutely hates his profession and who is about to sell toilet brushes on a stretch of suburban street where every single housewife is a gorgeous – repeat: gorgeous – nude young lady with big hair and even bigger boobs. (Whoever did the casting on this should have a statue erected in the park.) Of course, this being a Nudie-Cutie, we know the combination of Herman and naked girls will be utterly disastrous….
However, unlike most Nudie-Cuties, Herman isn't afraid of women. Usually, the typical Nudie-Cutie male lead just likes peeping, peeking, and staring at naked women until the mere threat of physical contact sends him running away. But Herman's problem isn't the opposite sex, but his own klutzy incompetence. For instance….
Customer #1 (TERRY COLLINS) is a busty blonde who answers the door dressed only in a bath towel. Prompted by the poltergeist, Herman shows her his brushes despite being distracted by her legs, bare butt, and a flash of bare boob until – uh oh – he accidentally sucks off her towel with a berserk vacuum cleaner!
Customer #2 (VICKIE RIN) happily invites Herman in… and into her bedroom where she wants his opinion on a sophisticated red dress she models for him. He likes it, she's happy, and everything goes well until she asks him to help her with the zipper which, somehow or other, results in Herman yanking her red brassiere off!
And so on. Customer #3 is a birthday girl baking a birthday cake in her birthday suit who gets whipped cream in her face…. Customer #4 is a big blonde making out with a Milkman who looks exactly like Herman…. And Customer #5 chomps cherries in her backyard, gets topless and flirts with our hero until – yipes! – her fat ogre-like husband unexpectedly comes home and starts to strangle Herman….
And that's when things really get crazy as Tales of a Salesman suddenly switches from slapstick into quasi-psychedelic surrealism (beautifully shot by an uncredited VILMOS ZSIGMOND) in which Herman and all the naked young ladies run amok in a bizarre hallucination featuring Herman as a vampire, Herman as an evil Arab with a whip, Herman getting hanged, and Herman getting inflated by a vacuum cleaner going in reverse! Yow.
One of our faves, Tales of a Salesman may not be classic comedy, but it delivers what a Nudie-Cutie is supposed to deliver. In fact, it's like an issue of Adam magazine come to life! From the 35mm negative in "Nudavision" and "Lusticolor"! — François Pinky