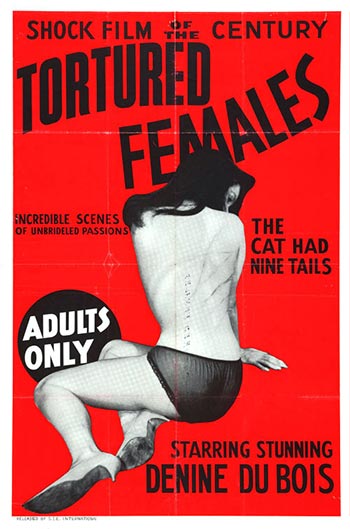 Tortured Females (1965)
Genre: Crime | Horror | Nudie
Country: USA | Director: Arch Hudson
Language: English | Subtitles: None
Aspect ratio: 1.33:1 | Length: 60mn
Dvdrip H264 Mkv – 714×540 – 23.976fps – 787mb
http://www.imdb.com/title/tt0259675/
Unaware of the local Hooded Strangler lurking around her door, poor Helen Doe decides to visit her aunt but, instead, winds up at the "House of Horror on the hill." There, she and six other Tortured Females are held by white slavers.
Imagine Dale Berry's THE GIRL AND THE GEEK (1964) with more nudity, a sleazier premise, and a helpful female voiceover to explain the insanity. The end result would be TORTURED FEMALES, a bottom-of-the-barrel roughie shot for $1.50 with a busty blonde heroine straight out of a Russ Meyer epic (God rest his soul). This is a 61-minute oddity sure to please fans of the inane. The fun begins with an opening scroll read by a deathly-serious male narrator, condemning young women who don't heed the warnings of the "Little Red Riding Hood" fairy tale (?!). "Helen Doe" is a dizzy big-breasted blonde who, despite the recent rash of murders by the Hillside Strangler (who is seen prowling outside her apartment door), leaves her front door unlocked and waltzes in her living room topless with a giant plush bunny rabbit (!). On her way to visit her aunt's house, her car runs out of gas and she decides to do a little skinny-dipping en route to find gas. The dimbulb is finally picked up by a hick truck driver who chases her into the woods, belts her on the chin, and drags her pack to his ranch, where he and his boss, Mr. Big, have a stable of naked women tied in chains for their personal pleasure. The gals are whipped, beaten and forced to perform raunchy strip shows for Mr. Big before "Helen" dares to escape.
TORTURED FEMALES is one of few surviving films distributed by super-cheap Mitam Productions, which was essentially like a west coast version of New York City's Distribpix. It's also the most entertaining feature on this disc. While there are a few too many striptease acts substituted for torture (shades of Steve Apostolof's ORGY OF THE DEAD), this is a fantastically kooky unearthed treasure. In the style of Dale Berry's films, dialogue is spoken while the actors don't move their mouths, there is lots of rugged outdoor photography, and a dimly lit house is made up to look like an unconvincing dungeon. In the most demented plot point, the naked bloody girls are tended to by (swear to God) a mutated Mongolian hunchback who speaks in sped-up Chipmunk-sound chattering! He feeds the girls like dogs, relishes being whipped by Mr. Big and has to bury the dead captives in shallow graves when they croak from too much torture. Despite the film appearing to be cut (a lesbian rape seems to be missing), this is a perverse journey well worth taking.