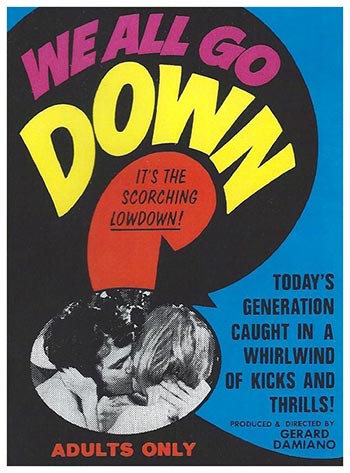 We All Go Down (1969)
Genre: Drama | Erotic
Country: USA | Director: Gerard Damiano
Language: English | Subtitles: None
Aspect ratio: 1.33:1 | Length: 75mn
Webrip H264 Mp4 – 640×480 – 29.970fps – 712mb
https://www.imdb.com/title/tt0065197/
"I gotta have a little A…. I can't cut this straight…. There's too much happening…. I can't make it…. This is freaking me out… It's too much…. I have to have some A…."
Though Deep Throat — the single most notorious porn film of all time — is little more than a dirty joke, films like The Devil in Miss Jones, Memories Within Miss Aggie, and The Story of Joanna suggest that director GERARD DAMIANO may, in reality, be a serious filmmaker trapped in the body of a pornographer. In fact, watching We All Go Down, Damiano's very first film and one of his rare non-pornos, one gets the impression that Damiano hates sex. Like Memories Within Miss Aggie, sex is the ultimate downer, performed by degenerates, and leading to all kinds of misery. We All Go Down is also a surprisingly powerful film debut. So technically raw and sloppy that it really looks like it was shot in the gutter, it nevertheless conveys such a bleak and despairing view of the world that you might flinch but you won't look away.
Pete (BILL DOUKAS) and Nancy (ALICE HALEY) look like a lovely couple except… uh, apparently they're notit a couple. Nancy wants him but Pete, "a goddamn dope addict," just wants to mooch money. She gives him some cash and he says thanks by promptly leaving to (realistically) shoot up in the men's room of a go-go bar (one dancer's topless, the other bottomless). Not wanting to waste a good night, Nancy leaps into the sack with her lesbian roommate: "I'll take your mind off him!"
At his dad's beach house, Pete discusses life with Carrol, his real? girlfriend — "You think we should leave each other? I mean, I'm really screwed up!" — before he informs her that his pussy-whipped friend Rick will be joining them for the weekend. Unfortunately, accompanying Rick are a bunch of truly wretched human beings. Like Burt, an arrogant rich asshole who immediately puts the moves on Rick's blonde bitch of a girlfriend: "She's just a pig." And pretty-boy Jay who first goes after Carrol ("I hate to be blunt but you've got a beautiful behind!") before raping her cousin Sandy.
Unable to deal with them, "Peter-the-A-Head" tries to score some amphetamine from his pusher but the guy only has LSD: "Acid tonight, A tomorrow!" Peter promptly takes an S&M-tinged trip (in which a gal sticks a giant needle into his bare gut), flips out on the floor ("I'm drowning, I'm drowning!"), and cuts off a finger.
Meanwhile, Nancy — remember Nancy? — is informed by a scary stranger that Pete sold her to his pusher who, in turn, sold her to him. Though outraged that Pete literally sold her out, Nancy doesn't seem bothered at being bought and quickly gets it on with the big scary guy….
All of which comes complete with a detour to a drug orgy, sex scenes that look like they want to go hardcore, and even one of Mr. Damiano's trademark cameos.
The moral: Don't do drugs. Don't have sex. Don't have friends.