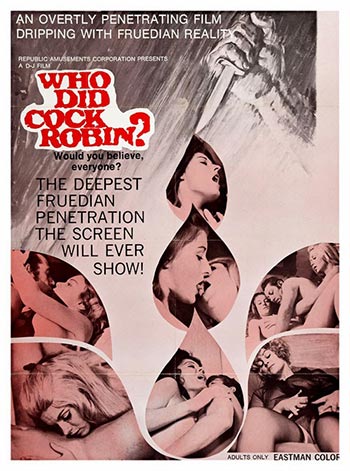 Who Killed Cock Robin? (1970)
Genre: Erotic | Drama
Country: USA | Director: Donald Jones
Language: English | Subtitles: None
Aspect ratio: 1.33:1 | Length: 56mn
Dvdrip H264 Mkv – 734×576 – 620mb
http://www.imdb.com/title/tt0153784/
After the title character is found dead in the alleyway behind a seedy club, a very dodgy young detective named Bamum is brought in to investigate. He reminds one of the classic Johnny Wadd character played by John Holmes, although the weapon this guy carries is a lot less impressive.) The first suspect to be interviewed is Vera.a stripper at the club who does little to hide her hatred for the deceased Mr. Robin: "I would have done it myself if I had a chance!" A flashback sequence in which Robin bursts into Vera's dressing room and seduces her gets the dancer so turned on, she quickly turns her attention towards Barnum – "Once in a while I like a real man!" – and, before long, the detective is going above and beyond the call of duty. Vera also reveals that Robin deliberately made her pregnant, by switching her birth control pills.
Bamum's next stop is the Campus Free Sex Club, where he arrives just in time for their latest meeting: "Why don't we just pair off and watch the swingers?" Bamum doesn't even get a chance to introduce himself before his clothes are being stripped off and he's rolling around the floor with the female leader of the club, who also happens to be a member of the I Hate Robin Club, after Robin snapped uncompromising photos of her and threatened to show them to her parents. (Gee, why would anyone want to do away with such a nice guy ?)
The day just gets busier and busier for the seemingly inexhaustible Bamum, who next stops off at the apartment of two lesbians who also fell victim to both Robin's charms and his blackmailing ways. Although Barnum is certainly having a great time, the case is no closer to being solved until he corners a young man named Ron, whom he notices has been following him. Ron admits mat he knows some things about Robin, and the detective agrees to meet up with him at his home.
When Bamum turns up at the house earlier than expected, he finds Ron's horny middle-aged mom, Monica, home alone: "Can I offer you a drink… or something!" After Bamum thoroughly interrogates the woman, it emerges that she has an incestuous little secret that not only solves the case, but takes the term "motherly love" just a little too far….