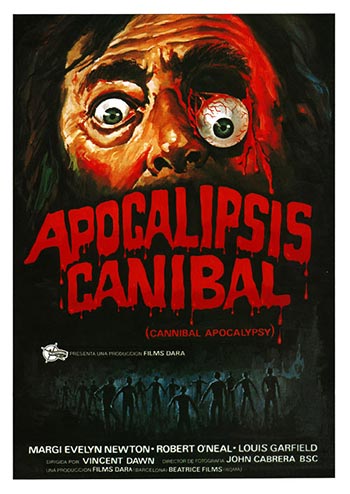 Zombie Creeping Flesh (1980)
aka Hell of the Living Dead
aka Virus cannibale
aka Apocalipsis caníbal
Genre: Sci-Fi | Horror | Thriller
Country: Italy | Director: Bruno Mattei
Language: English | Subtitles: English, French
& Spanish (Optional, embedded in Mkv file)
Aspect ratio: Widescreen 1.85:1 | Length: 98mn
Bdrip H264 Mkv – 1280×688 – 23.976fps – 4.37gb
http://www.imdb.com/title/tt0082559/
After a chemical leak at the Hope Centre in Papua New Guinea (an organization devoted to feeding underdeveloped countries) turns its staff into flesh-eating zombies, a four-man commando squad led by Mike London are sent to investigate. They run into a TV news crew led by celebrity reporter Lia, who are after the same story, but when they discover that the entire country has been overrun by zombies, what are the chances of them getting the message across? Unlike most zombie films, this actually tries to make a serious point – that if we don't feed the Third World, they'll come and feed on us!
If National Geographic were to make a zombie film, then there's a good chance it might look a lot like this delightfully cheesy effort from Italian trash-meister Bruno Mattei (here directing under one of his many pseudonyms: Vincent Dawn).
Padded with documentary footage of exotic wildlife and mondo scenes of tribal ceremonies, including animal mutilation and native funeral rituals, this cheap and cheerful Dawn of the Dead knock-off is a sensationalist, bloody, and often unintentionally funny crap-fest; naturally, it is essential viewing for fans of z-grade gory exploitation.
Margit Evelyn Newton plays attractive TV reporter Lia Rousseau, who, along with her cameraman and a highly trained four-man military unit, investigates an area of New Guinea where the dead have been rising to devour the living. After endless meandering through zombie infested villages and jungle, they eventually trace the cause of the problem: a deadly gas, designed to thin out the world's population, has escaped from a top secret installation—and there is nothing that can be done to stop its contamination.
With its dreadful script, dire acting, and often totally unconvincing gore FX (barring a particularly eye-popping moment towards the end), it's not surprising that Zombie Creeping Flesh (AKA Hell of the Living Dead) often gets a critical mauling. However, for a certain type of viewer (you know who you are), these are exactly the reasons why the film is so enjoyable. Those, plus the fact that Newton strips down to her thong and paints her nipples.
Zombie Creeping Flesh is recommended to those who have enjoyed similar fare, such as craptabulous classics Burial Ground and Nightmare City, and the splatterific Dr. Butcher MD (AKA Zombi Holocaust).

http://www.nitroflare.com/view/A69FC16CD12204B/helide80.part1.rar
http://www.nitroflare.com/view/2B8F9AF6B1769B0/helide80.part2.rar
http://www.nitroflare.com/view/13EA96A81EC6114/helide80.part3.rar
http://www.nitroflare.com/view/72C341B7FDAD80C/helide80.part4.rar
http://www.nitroflare.com/view/AF2EE717300E5C8/helide80.part5.rar