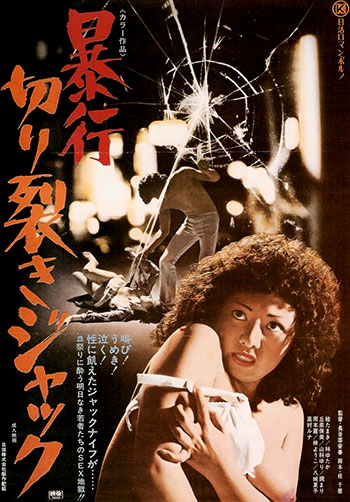 Assault! Jack the Ripper (1976)
aka Bôkô Kirisaki Jakku
Genre: Pinku | Crime | Drama | Horror | Thriller | Erotic
Country: Japan | Director: Yasuharu Hasebe
Language: Japanese | Subtitles: English (.srt file)
Aspect ratio: Cinemascope 2.35:1 | Length: 72mn
Bdrip H264 Mp4 – 1920×768 – 23.976fps – 1.37gb
http://www.imdb.com/title/tt0237045/
Two restaurant employees begin a torturous and sexual killing spree after they accidentally kill a hitch hiker and find that murder and mutilation is their mutual aphrodisiac.
ASSAULT! JACK THE RIPPER is one of those films that just ain't gonna be everyone's cup of tea. It's brutal in it's depiction of rape and murder and has pretty much no redeeming value in terms of "entertaining" cinema – and that's exactly why it is such a "classic" of the pinky genre. At a time when many other pinky films dealt with sleazy subject matter in a more "fun" and tongue-in-cheek manner, ASSAULT! went straight for the jugular, or more appropriately, crotch…
Two restaurant co-workers realize their penchant for brutal rape and murder after a mishap with a whacked-out hitch-hiker. As the two find that murder is their only aphrodisiac – things get out of hand. They continue to "feed" off of each other and pick up random strangers to do their "business" with. Homeboy finds that he has a thing for stabbing the victims in the cooch – this appears to be his major "turn-on". Homegirl starts to get a little to clingy and jealous when she realizes that he's been doing some "moonlighting" on his own. This all results in the end of their relationship, among other things…
There's nothing really comical or fun about ASSAULT! (except for the strange disco soundtrack…). It appears that the main goal of this film is to shock and disgust, which it does appropriately enough – especially for it's 1976 time-stamp. Although the crotch-gouging is not "graphically" shown, the sound FX and inference of what's going on is enough to be disturbing. This is a rare film as it predates a lot of more sadistic films that became notorious throughout the late 70's through today. Again, not a film for all tastes, but for those that are looking for something a little "rougher"…this may be the one.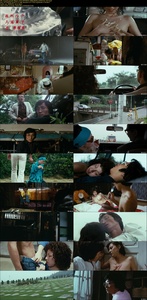 Assault! Jack the Ripper (1976)