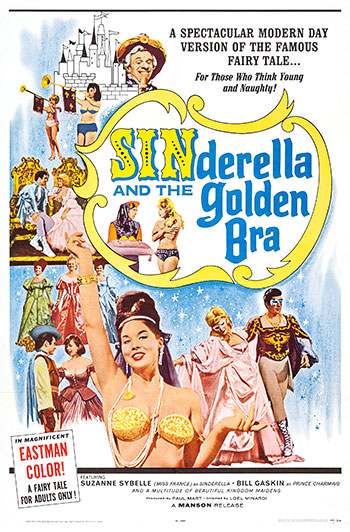 Sinderella and the Golden Bra (1964)
Genre: Comedy | Musical | Fantasy | Nudie
Country: USA | Director: Loel Minardi
Language: English | Subtitles: None
Aspect ratio: 1.33:1 | Length: 72mn
Dvdrip H264 Mkv – 704×528 – 23.976fps – 1.18gb
http://www.imdb.com/title/tt0058590/
Prince David is having trouble finding a bride amongst the maidens of the village, so his father decides to hold a masked ball. Sinderella, an adopted French orphan, puts up with abuse from her stepmother and two stepsisters, and is not allowed to go to the ball. She is despondent until her inebriated fairy godfather appears and fixes her up real pretty and sends her on to the ball, with the admontion that she must return by midnight. Sinderella and the Prince get along famously, but the time flies and she leaves in a hurry, dropping her gilded support in her haste. The Prince mounts a desperate search for his loved one, requiring all the maidens of the village to try on the forgotten garment.
Technically, of course, there's no such thing as an Adults Only film for kids, or a Kiddie Film for adults only but – without rhyme, reason, or common sense – here it is nonetheless, and one can only marvel and shake one's head and ask: What the hell were they thinking? Yes, folks, we're talking Sinderella and the Golden Bra, a cardboard storybook fairy tale that plays like one of those K. Gordon Murray children's films shown at kiddie matinees in the 1960s except – and this is significant – this one comes with bare breasts.
For instance: King David, who is costumed to look like Old King Cole, sits on a traditional throne and worries about his son's lack of a princess. It's a scene that looks like it could be from countless children's stories and, with the actors overplaying each line as if making sure pre-schoolers can follow the plot, you begin to worry about what you've gotten yourself into. It almost gets worse as the king announces he needs someone to help him with his knitting – His knitting? Did the king say knitting?!? – when four beautiful topless young ladies march out and stand there holding his wool with their happily exposed breasts smiling at the world! It's such a startling collision of visuals and concepts that your mind suddenly goes into free-fall which isn't helped one bit when the king suddenly starts singing some stupid-ass song about knitting-as therapy. That's right, Sinderella and the Golden Bra isn't just a Kiddie-Film-for-Adults Only but a Kiddie-Film-for-Adults-Only Musical!
Sinderella is also what was then called a Nudie-Cutie, which were essentially sex films without sex. Because of the legalities of the early 1960's, semi-nudity was tolerated on screen but simulated sex was still a no-no. So the Nudie-Cuties, the logical extension of Burlesque films and Nudist Camp movies, presented tits and ass but no touching. Hard to believe now but, yes, you could say that Sinderella and the Golden Bra was the pornography of its day.
Anyway, the king holds a masked ball so that Prince David will stop fantasizing about the woman he dreams about and pick a maiden from the village. Of course, the woman in the Prince's dreams is none other than Derella (French import SUZANNE SYBELE with a thick accent) who's mistreated by her hag stepmother and two ugly stepsisters. But Derella's Fairy Godfather (scary SYDNEY LASSICK, of One Flew Over the Cuckoo's Nest, who also does a scene in drag) climbs in her window one evening and gives her a magic gown to wear to the ball provided that she returns home before midnight — which she does, leaving her golden brassiere behind. With the B-cups in hand, the prince then searches for 'the perfect fit' between the kingdom's lovely maidens (including ALTHEA CURRIER of Kiss Me Quick) and the Golden Bra….

Sinderella and the Golden Bra (1964)