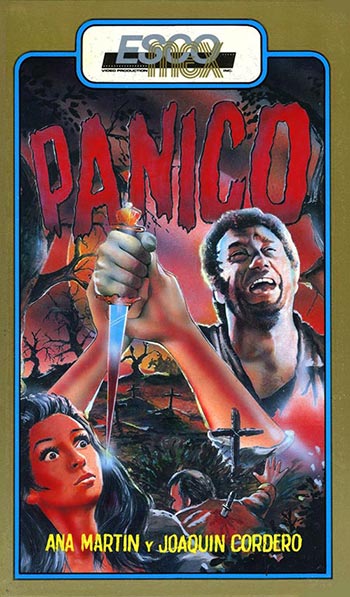 Panic (1966)
aka Panico
Genre: Horror Anthology | Fantasy | Mystery
Country: Mexico | Director: Julián Soler
Language: Spanish | Subtitles: English (.srt file)
Aspect ratio: 1.33:1 | Length: 85mn
Vhsrip Xvid Avi – 640×480 – 29.970fps – 1.25gb
https://www.imdb.com/title/tt0239853/
Pánico takes place in 3 parts. The first part has an attractive, nightgown-clad young woman fleeing through the forest with a witch in hot pursuit who's brandishing a very sharp knife. Why is the woman running? Why is the witch after her? And who are the three young men she keeps seeing in the woods as she runs? This segment is short and has a satisfying wrap up of what's going on.
The second part has two men fleeing a plague of some sort. They've just buried a young woman and have decided to leave the area by getting into a canoe and paddling down the river. Before long, however, the mind of one of the men starts playing tricks in regards to the woman they buried. They then get into a nasty fight which leaves the second man dead and the first man suffering even more hallucinations. Man #1 then buries Man #2. But is the other man really dead? Why does the first man begin to have "visions" of his former friend un-burying himself and stalking him in the woods? Far out stuff here; the end of this segment is most unusual.
Segment #3 has to do with a scientist and his cat who both ingest some chemicals by accident. This liquid gives the victims the appearance of being dead, but we quickly discover the scientist and the cat are merely paralyzed. But the scientist's wife and the family doctor can't find a pulse or heartbeat when they discover him. What to do? Have a funeral and bury the unfortunate scientist. Can the scientist wake up from his paralysis in time to avoid being buried alive? Lucky for the cat he was able to get up and walk away when the paralysis wore off! The ending of this final episode is hilarious with a conclusion you'd never expect.