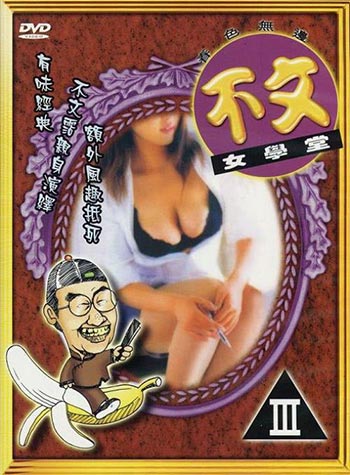 Screwball '94 (1994)
aka Bu wen nu xue tang
Genre: Sex Comedy | Fantasy |Cat.III
Country: Hong Kong | Director: Otto Chan
Language: Cantonese or Mandarin (2 separate audio tracks)
Subtitles: English & Chinese (Hardcoded)
Aspect ratio: Widescreen 1.85:1 | Length: 92mn
Dvdrip H264 mkv – 702×405 – 29.970fps – 1.17gb
http://www.imdb.com/title/tt0109346/
A teenage boy can't stop having wet dreams and waking up with a hard-on, to the chagrin of his staid parents. These dreams feature many of the girls in his school, but one most of all, a severe-looking lovely who is the head troublemaker among the girls. Who could help him relieve such torment ? Aladdin style, he frees a sex-mad and loudmouth ghost (James Wong) from a 400-year imprisonment, who provides some guidance and many laughs. For instance, to prove he is a ghost (and not an illegal mainlander), he makes the boy's parents "act strangely", that is, uncontrollably horny towards each other. But the ghost also has a mission. To atone for all his past philandering (featured in the great opening sequence), he must help his modern-day descendant to stop fooling around and settle down, and he has only limited time, else won't reincarnate.
Ghost finds her, and she's the severe-looking lovely, so he goes about getting her together with the boy. Of course, this being a teen school film, there are silly characters and antics all over the place. The girls gang up on the guys and try to humiliate them, but the ghost "teaches them a lesson" (by making their skirts rise and their upper clothing vanish). Two brothers directly copy the shower scene from Porky's. There's a "sex maniac" (actually, a phantom boob-grabber) loose. Kent, a handsome school board director conspires with his wacky girlfriend to discredit the school's reputation, to sell it off for real estate. A girl (graphically) fantasises getting off with her pop star idol while on a gym horse. Kent's girlfriend goes undercover as a biology teacher, and gives the class an eye-popping sex education lesson.
There's a basketball game, crucial to restoring the school's failing (in the face of Kent's efforts) reputation, where the students are slipped a potion which gives girls and uncontrollable urge to suck on the nearest phallic object, and the effect on guys just has to be seen not to be believed. The ghost manages to save the day, and even gets his descendant settled down, just in time to be reincarnated, but not quite to his satisfaction…….