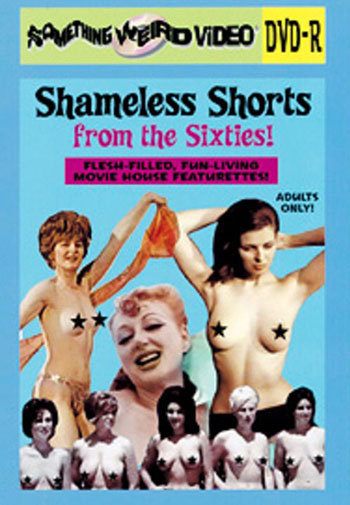 Shameless Shorts (1960's)
Genre: Nudie | Short
Country: USA | Director: Barry Mahon & David F. Friedman
Language: English | Subtitles: None
Aspect ratio: 1.33:1 | Length: 116mn
Dvdrip H264 Avi – 640×480 – 29.970fps – 1.15gb
Back in the 1960s, sexploitation producers like BARRY MAHON and DAVID F. FRIEDMAN made color nudie featurettes to supplement the main features, stretch the running time, and make more moola. In Something Weird's constant quest for the ultra-rare, we've acquired and now present to you some of these Shameless Shorts!
Instant Orgy (color; Barry Mahon): Someone spikes the punch at a ladies auxiliary meeting and the classy broads – including twins DARLENE BENNETT and DAWN BENNETT – find themselves removing their clothes and involuntarily go-go dancing in the board room!
Part Time Pin-Up (color; Barry Mahon): Plain-jane secretary by day, glamorous figure model by night!
Girl in a Cage (color): One of our faves! A gorgeous wild blonde who looks like she's crazed with jungle fever does an incredible striptease in a bamboo cage before getting jabbed with a hypodermic needle! Mind-numbing!
Bottoms Up (color; Barry Mahon): Four buxom Floridian beauties put on their swimsuits, take off their swimsuits, and splash about in a swimming pool!
Nude in the Window (color; Barry Mahon): Three roommates in a high-rise apartment spy a good-looking young man across the way and decide to get his attention by standing in front of the window topless and taunting him!
Censored (b&w; Barry Mahon): A creepy narrator introduces nudist-camp footage from the film Censored featuring the lovely and snotty Miss JUNE ROBERTS (Sin in the City). Obscene or not? You decide!
Crazy Camera (color; Barry Mahon): Monsieur Pierre's camera plays tricks on him when his fully-clothed models appear naked through the lens! Perhaps if he has them undress they will appear clad on film? Viva la femmes!
Nautical Nudes (color; Barry Mahon): Sue Evans (Good Time with a Bad Girl) and two other tanline cuties go for a ride on Dan's boat, take off their tops, and lie right in front of him, tits up! What a view! He wants to party with the gals, but they just wanted to catch a few rays. Sucker!
Naked Fury (color; Barry Mahon): It's the Bennett twins again, this time wrestling each other in kinky lingerie for a magazine layout. The sisters go at it like gangbusters with Darlene dominating the submissive Dawn.
Sexy Shutterbabes (color; Barry Mahon): The same three gals from Crazy Camera are at it again, except this time they're taking a picture of some poor schmuck who just wants a passport photo.
Yearning to Tease (color; Barry Mahon): Some striptease veterans give exotic dance lessons to a novice. These chicks look like they've been around the block and back, and could definitely kick your ass.
But Charlie, I Never Played Volleyball (color; David F. Friedman): Dave made this good-natured nudie to showcase starlet STACEY WALKER (A Smell of Honey) in which she's the judge of a nudist-camp beauty contest. We love the naked he-men in gladiator helmets who escort the girls onstage!
Miami Strip (color): Stripper LYNN O'NEILL, "The Original Garter Girl," does a topless dance routine around a Miami pool! Way to go, girl! — Lisa Petrucci