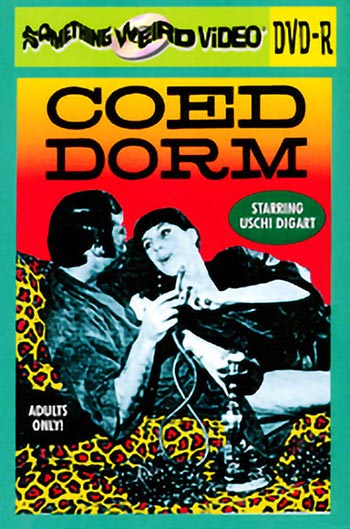 Coed Dorm (1971)
aka Farouk University
Genre: Erotic | Comedy
Country: USA | Director: Tom Alderman
Language: English | Subtitles: None
Aspect ratio: 1.33:1 | Length: 75mn + 30mn of Trailers
Dvdrip H264 Mp4 – 640×480 – 29.970fps – 1.04gb
https://www.imdb.com/title/tt0215629/
Founded by Ali Baba Schwartz and presided over by Dr Maurice De Sade (RAY DANNIS, the undertaker of The Undertaker and His Pals), a "world-famous gynecologist,""Farouk University ("Farouk U") not only offers "an exotic curriculum," but also a "coed fraternity-sorority house" which is the "only one of its kind in the world." Attending both the school and the Coed Dorm is Thi Beta This sorority sister Virgy Summers, a 20-year-old "angel of a girl" whose defrocked-priest daddy has left her 40 million dollars if she remains a virgin. (Once a year, she must be "certified pure.") Also attending is Graham WIlliams, a blond pretty-boy and divinity student: "Good morals are no joke." He's also properly appalled when the house mother, an ex porno actress named Tempest LaVerne gets naked and attacks him: "I have committed fornication! The devil broke down my resistance!"
As expected, Graham and Virgy fall in love. They kiss. They get naked. They do it. Oops. Bye, bye virginity. Bye, bye millions. Nevertheless, Virgy deals with it stoically by breaking into song. Yup, Coed Dorm is, amazingly, a semi-musical!
More musical numbers occur when the dorm holds a benefit show to help Graham pay his college tuition. On the program are none other than USCHI DIGART ("Miss Melons") accompanying "The Farouk U All-Girl Topless Tabernacle Choir"; a torrid strip by Miss LaVerne she calls "The Sins of Florence Nightingale"; and De Sade singing a suave version of "The Battle Hymn of the Republic" while surrounded by bare breasted gals waving flags. (Mr. Dannis is pretty funny here.)
And because De Sade is also something of a mad scientist ("I'm transplanting the rectum of a baboon!"), Tempest asks if he can make Virgy "whole again." He suggests "a virgin transplant" and soon has the unbroken hymen of an 80-year-old virgin transplanted into Virgy. Unfortunately, the operation does not go well, but it does lead to the film's funniest musical number…
Wow. Rated X when first released in 1971 (by Ellman Film Enterprises), Coed Dorm is a rather wacky drive-in mix of skin, songs, and stupid jokes — definitely not what one would expect from the director of the low-budget horror film The Severed Arm.
But Beware. This print has been through Hell and back. Missing the opening credits and ending abruptly, the film is not only splicy and scratched, but the emulsion has already started to rot. Blobs of iridescent color invade scenes like some strange psychedelic light show, while the color in other scenes pulsated, bleeds, and looks downright radioactive. (We love how faces glow with greenish highlights.) Nevertheless, Something Weird is offering this to non-purists who, like us, believe that a rarity-in-bad-shape is better that a rarity unseen.
And remember, students: "Nothing is more important than good knowledge of basic bedwork!"