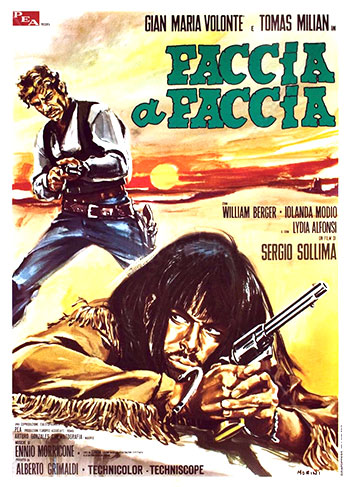 Face To Face (1967)
aka Faccia a faccia
Genre: Western
Country: Italy | Director: Sergio Sollima
Language: Italian | Subtitles: English (.srt file)
Aspect ratio: Cinemascope 2.35:1 | Length: 110mn
Bdrip H264 Mp4 – 1916×814 – 24fps – 2.10gb
http://www.imdb.com/title/tt0061636/
History Professor Brad Fletcher heads west for his health, but falls in with Soloman Bennett's outlaw gang. Fascinated by their way of life, Fletcher finally takes over the gang, leading with a new 'efficient' ruthlessness.
Sergio Sollima's Faccia a faccia (1967) is a very great Italian western with the genre icons Tomas Milian and Gian Maria Volonte. A seemingly "good" teacher, a professor (Volonte), gets by coincidence on the same path with a seemingly "bad" and infamous bandit (Milian) only to see how hollow and meaningless those terms are, used alone, without the other, the opposite. The way how both characters begin to change (the professor away from his usual, sophisticated environment and society) is very believable and well-written with the development that steps on the all necessary steps, not jumping from one point to another and thus making it all very unnatural: when an unexpected character does something against his "persona", it has been well argumented by the previous happenings and words. Like in the masterpiece western Il grande silenzio (Sergio Corbucci, 1968), there are no entertaining heroes that end up killing the "bad guy" in a spectacular finale. Sollima concentrates on the dualism of the human nature and the fact how easy, in the right circumstances, it is to change and cross the line, for every human being, no matter what the past or status in society. And he does it very well, both script-wise and image-wise.
The imagery and compositions are great, intelligent and use the whole aspect ratio very carefully. Sollima uses some very low and radical angles very effectively, to make the imagery as rich as possible. The actors are professionals and both leads possess perfect faces for their roles. The soundtrack by Ennio Morricone is once again very pleasing but not among his greatest works, like in the mentioned film by Corbucci, or several films by Sergio Leone. This is simply a fantastic western from the time very many were made, after the success of Leone's first film with Clint Eastwood in 1964, A Fistful of Dollars. Corbucci's Il grande silenzio is even more stunning in its visuality and silent despair, but after all Sollima's film's statement isn't any more positive, untrue and calculated, in other words.