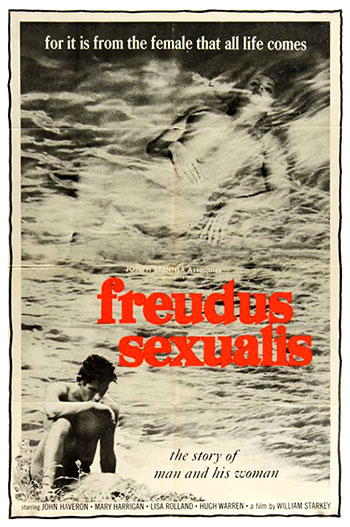 Freudus Sexualis (1965)
Genre: Drama | Sexploitation
Country: USA| Director: William H. Starkey
Language: English | Subtitles: None
Aspect ratio: 1.33:1 | Length: 77mn
Dvdrip H264 Mkv – 702×528 – 29.970fps – 1.17gb
http://www.imdb.com/title/tt0218981/
A man marries his childhood sweetheart, then their lives spiral downhill.
Freud meets Adam and Eve in a backwoods Garden of Eden. (Sort of.) On a 205-acre farm (located somewhere in the county between Lorna and Jennie Wife/Child), Adam returns from the army and marries Eve, his girlfriend from the seventh grade: "And they shall come unto one another, naked and unashamed, for this is the way it was meant to be."
Well, almost. Into this bucolic bumpkinsville comes a sportscar-driving gal named — get this — Jezebel, who drives out from the big city to skinny dip ("Seeing a girl swimming like that in the river is kind of hard to take…"), and a smoldering neighbor who has the hots for Eve, and gets his face split open with an axe. But even before the violence, Adam and Eve's down-home apple-pie perfection goes a little haywire on their wedding night. Adam gets first-night jitters and hides in the bathroom smoking cigarettes. (What would Freud say about that?) When he finally gets up the nerve and joins Eve in bed, the oddest thing happens.
Eve is a blonde Alice Faye type but, as Adam moves down to her breasts, Eve changes into… well… someone else. She's suddenly played by an unbilled brunette who later gives a blowjob to a chewed-up chicken leg in a flashback! (And what would Freud say about that?) Poor Eve.
It's bad enough she's body-doubled on her wedding night but, the first moment Adam's away, The Neighbor zeroes in on her. As a violent thunderstorm rages overhead for all of about… oh, 51 seconds, The Neighbor attacks her in a field. Adam (who seems to hate wearing shirts) comes home, immediately strips into his bathing suit and, armed with a hatchet, hunts him down. Both are clad only in Speedos and their wrestling match in the forest would no doubt have made D. H. Lawrence very happy indeed. In the end, Adam buries the hatchet.
In the Neighbor's forehead — a great gory closeup that must've had audiences choking on their popcorn back in '65. Of course, what any of this has to do with Freud is anyone's guess. And probably why Freudus Sexualis comes complete with a second, alternative title, A Man and His Woman. A better one would've been Adam and Eve Down on the Farm.