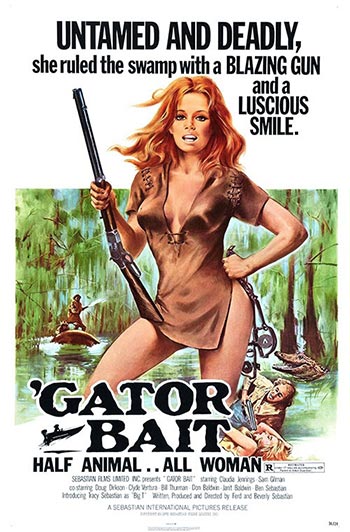 'Gator Bait (1974)
Genre: Action | Drama | Thriller
Country: USA | Director: Beverly Sebastian & Ferd Sebastian
Language: English | Subtitles: None
Aspect ratio: 1.33:1 | Length: 88mn
Dvdrip H264 Mkv – 720×540 – 23.976fps – 1.46gb
http://www.imdb.com/title/tt0074080/
Desiree lives deep in the swamp and supports herself and her siblings by poaching. Ben and deputy Billy hope to get a little sexual comfort from the "Cajun swamp rat" when they catch Desiree trapping 'gators, and give chase. Desiree outsmarts them but Billy accidentally shoots Ben and tells his sheriff dad that Desiree did it. Ben's dad and sons join them in the search party and quickly get out of control. Soon the hunters become the hunted as Desiree exacts her revenge for their violence against her family.
'Gator Bait is a cult classic for a number of reasons, first of all, Claudia Jenning is hot, secondly, the Sebastians make quality low-budget dark sleaze. Most importantly, though there is little sex and violence in the film (as compared to many exploitation films) this film does not hold back. It rolls along at a good pace and is full of unlikable characters with secrets that are slowly revealed as the film plays out.
The plot is fairly simple, Desiree (Claudia Jennings) is out to avenge the death of her sister… who was killed at the hands of an angry family who were led to believe that she killed a member of their family while all along it was the son of the Sheriff who had committed the crime. It's pretty much a cat and mouse story, with gorgeous and barefoot Claudia Jennings (the cat) hunting down and systematically killing the men (the mice) responsible. In many ways (as was the case with many exploitation films) the film has a strangely feminist theme to it. It turns out that Desiree is the most clever, likable, and capable character in the film. That is the frequently missed point of many exploitation films… the women (the victims of some pretty dumb and unpleasant men) are the most sympathetic and frequently brightest and strongest characters. The whole film has a deep and dark sexual undertone to it, and like most exploitation, it is not for the squeamish or the Hollywood-fed public. This is a film for people who are willing to look into darker corners.
It is well acted, beautifully-shot, with a really cool Cajun theme song ("Jole Blon" rewritten), and plenty of action and outright weirdness.