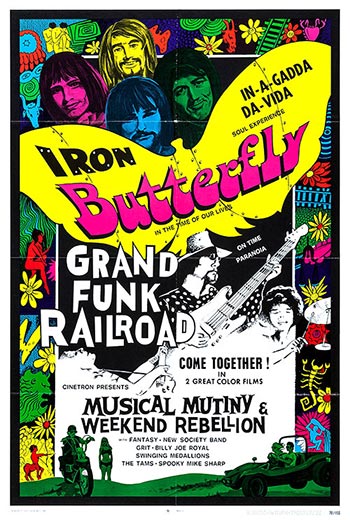 Musical Mutiny (1970)
Genre: Comedy | Fantasy | Documentary | Music
Country: USA | Director: Barry Mahon
Language: English | Subtitles: None
Aspect ratio: 1.33:1 | Length: 120mn (70mn + 50mn of Trailers)
Dvdrip Xvid Avi – 640×480 – 23.976fps – 703mb
https://www.imdb.com/title/tt0184759/
The ghost of a pirate casually strolls out of the ocean and declares war on a local amusement park: "The time is come to show all the talk of revolution and to act! Mutiny. Yes, me hardies, mutiny at Pirates World!" Pirates World?!! Yup, located in Dania, Florida, it was where Barry Mahon set up headquarters after relocating from New York in the late 1960s. "l took over the studio at Pirates World, a bit north of Miami, and made Jack and the Beanstalk and Thumbelina and a bunch of pictures like that" remembered Mahon in 1994. "Pirates World's biggest claim to fame was the rock concerts we held there. I hired Michael Jackson and The Jackson Five for $10,000! And Grand Funk Railroad and Iron Butterfly. Got all those for around ten thousand bucks. And we made a lot of money doing that."
Somehow the idea of a pirate taking over a pirate-themed amusement park inexplicably galvanizes every single teen who hears about it: "Dig it it's a mutiny!""A mutiny?! Let's go!""Outta sight!" Even BRAD GRINTER, director of Blood Freak, is impressed: "Mutiny? Whatever that is, it sounds like fun if I were a few years younger!" The subversive pirate tells the park employees to open the doors at 7 and let everyone in for free. Almost immediately, the park is besieged by a crowd of hippies, teens, and youngsters who arrive on motorcycles, dune buggies, and even a garbage truck with a sign that reads, "You Are What You Eat".
The owner of the park freaks at everyone getting in for free and pulls the plug on Iron Butterfly after only two songs: "No money, no music!" Suddenly, local bands start popping up all over the park to perform for free until, finally, Iron Butterfly is allowed back on stage to do "In-A-Gadda-Da-Vida" where, for 16-plus bludgeoning minutes, this Seminal Sixties Rock Classic is Mahonized by a hilarious lack of visual pyrotechnics save for an obligatory zoom lens going nuts, and a few pieces of stray psychedelic art.
And once the concert's finished, the pirate disappears back into the ocean.
Wow. Another lunatic Time Capsule from an era that now seems like a million years ago, Musical Mutiny is not only mandatory rock-movie viewing, but also proves once again that Barry was a genius.