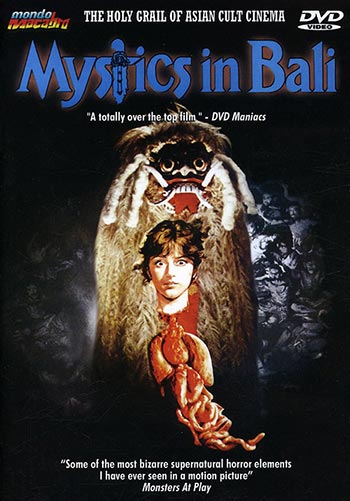 Mystics in Bali (1981)
aka Leák
Genre: Fantasy | Horror | Thriller
Country: Indonesia | Director: H. Tjut Djalil
Language: English | Subtitles: None
Aspect ratio: Cinemascope 2.35:1 | Length: 81mn
Dvdrip H264 Mkv – 1024×454 – 25fps – 1.53gb
http://www.imdb.com/title/tt0097942/
Researching a book that takes her to Bali and the black magic cult of Leák, Cathy meets an evil witch which promises to train her in the dark arts. Tricked, Cathy is turned into a Penanggalan; a flying vampire with internal organs hanging from her neck. It is now up to the local holy men who are then enforced to do battle with the forces of evil.
MYSTICS OF BALI has to be seen to be believed. Up until this time (1980) Indonesian cinema had been following along India cinema – where the movies pretty much had EVERYTHING in them – musical numbers, slapstick comedy, violence, horror, etc. MYSTICS was one of the first times they tried to make just a flat-out horror film and specifically for Western horror audiences. The film is a strange blend – with some genuine creepy moments and others that will have you unintentionally laugh out loud. Obviously they had no budget to pull off the special effects so when the woman's head leaves her body and she becomes this flying head with her entrails still connected – well, she looks like a badly made prop from George Romero directing Let's Go Fly A Kite in Mary Poppins.
A western women comes to Bali to study their "black magic" and gets in too deep and before she knows it, Indonesian forest witches control her and make her become this nocturnal flying head that flies around….and there is one scene where she attacks a pregnant woman and bad effects or not – it is downright creepy. The other truly bizarre thing in this film is the evil witches – they are gnarled old women with bad teeth and long fingernails and they laugh/cackle for five solid minutes at times (or so it seems) – it becomes comical because they are giving it 110% percent in their evil laughing but it ends up sounding like Witchiepoo from H.R. Pufnstuf. What a weird film – check it out.