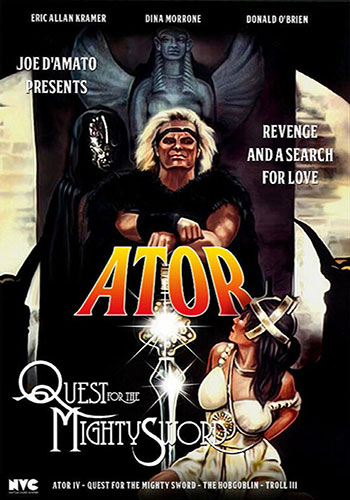 Quest For The Mighty Sword (1990)
aka The Hobgoblin
aka Ator IV: The Hobgoblin
Genre: Action | Fantasy | Adventure
Country: Italy | Director: Joe D'Amato
Language: English | Subtitles: None
Aspect ratio: 1.33:1 | Length: 94mn
Ldrip H264 Mkv – 640×480 – 29.970fps – 1.35gb
http://www.imdb.com/title/tt0100448/
Once upon a time a god gave a mighty sword to the king of Aquiles to bring justice to his people. Now he wants it back – but the king rather gives his life than the sword. Goddess Dehamira, who spoke for him, is being taken all her privileges and banned in a circle of fire, until a human arrives who's strong enough to free her. When prince Ator becomes 18, he gets the sword from the mean sorcerer gnome Grindl, to free Dehamira and his people. On his journey he has to fight against dragons and other fantastic figures.
Like Troll 2, there are tiny pauses throughout the movie where everyone just blankly stares at each other, also everyone seems like a real dullard and has a glazed-over expression. Ator is the biggest dullard of all– oafish; with the face of Benny Hill; waxed-legs, and clad in leather short-shorts.
Other things about this movie include: the really cheaply made sets don't match the castle exteriors; the music goes from bad techno to 1970's Cop Drama theme; the plot is forgotten within twenty-five minuets of the movie; there isn't any fighting choreography– it's "stab-stab, swing-swing, hope ya hit some thing", and this you will not believe: There aren't any horses in the movie and so to keep the pace THE ACTORS JOG THROUGH IT!
Finally, the icing on the cake– after Joe D' Amato finished working on Troll 2, he decided to use three of the goblin costumes from that movie. If any of you who've seen said movie can recant that the goblins mouths were badly animated, and they couldn't say their two lines without struggling or that they could only eat the green-stuff by smearing it on their teeth– well, D' Amato allowed the actor in the goblin costumes full dialogue!

Quest For The Mighty Sword (1990)