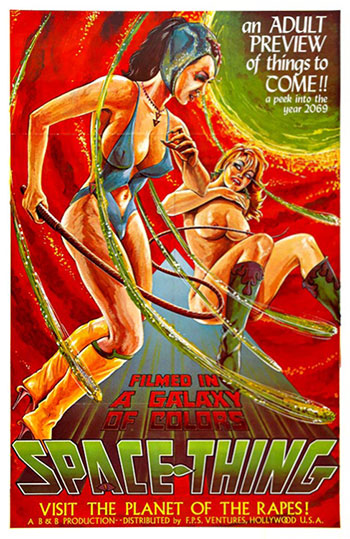 Space Thing (1968)
Genre: Comedy | Sci-Fi | Erotic
Country: USA | Director: Byron Mabe
Language: English | Subtitles: None
Aspect ratio: 1.33:1 | Length: 70mn
Dvdrip H264 Mkv – 640×480 – 23.976fps – 1.20gb
http://www.imdb.com/title/tt0063631/
Audio 2: Commentary with Producer David F. Friedman
Space Thing makes Plan 9 From Outer Space look like Citizen Kane. It may very well be the worst science-fiction film ever made. And we mean that as a compliment.
"You and I exist infinitely in an infinite number of ways," says STEVE VINCENT to his horny wife after reading an issue of Science Fiction Classics. "Will you put the friggin' light out and come to bed, you friggin' son of a bitch!" she wisely retorts.
In one of those parallel worlds, Vincent is Col. James Granilla, an alien in disguise, who leaves his "space canoe" (a model of The Enterprise hung upside down) and hops aboard a nearby flying saucer populated by a crew of semi-nude space nymphs headed by lesbo Captain Mother (and where rubber garbage cans serve as "futuristic" seats).
However, since Granilla is a "Planetarian" and all the luscious ladies are "Terranians," he doesn't exactly find them attractive: "I could not completely hide my disgust." Still, he wishes to learn their "intimate ways" so he watches as Portia and her boyfriend make love to a groovy '60s score. Said lovemaking enrages Captain Mother who whips the shit out of Portia: "Maybe that'll teach you that men are off limits!" And, yessiree, boys and girls, there's nothing quite like a little whipping to brighten up any whimsical sci-fi comedy!
Granilla finally breaks down and makes it with a gal "from Kansas." When they land on an asteroid (where they need neither oxygen nor clothes), he even makes Mother after Mother makes Astrid. Eventually, Granilla finds himself in the enviable position of ship stud. His reaction? He looks at a picture of an alien creature ("It was good to look at my lovely family…"), lights the fuse of a "micro-atomic bomb," and blows everyone up. The End.
But never mind. Space Thing has the best looking space dolls in and out of the best looking space doll costumes since Invasion of the Star Creatures. Started by director BYRON MABE (She Freak) and finished by producer DAVID F. FRIEDMAN.