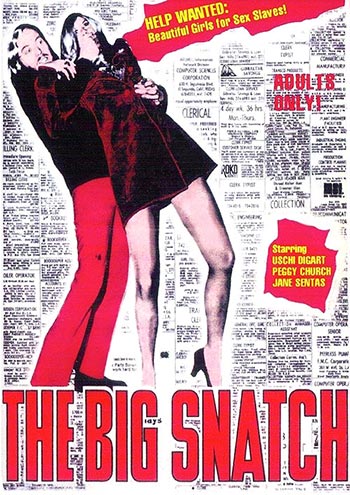 The Big Snatch (1971)
Genre: Crime | Drama | Thriller | Softcore
Country: USA | Director: Dan Martin & Byron Mabe
Language: English | Subtitles: None
Aspect Ratio: 1.33:1 | Length: 115mn (83mn + 32mn of Trailers)
Dvdrip H264 Mkv – 768×576 – 29.970fps – 1.93gb
https://www.imdb.com/title/tt0062730/
Guy in a pickup truck kidnaps 5 women off the street, intending to make them his sex slaves.
Picture a pretty young virgin spread-eagled over your car's over-heated radiator. The radiator cap is removed, the engine revved, and boiling hot steam belches out of it creating one percolating pussy! This is an image to conjure with, folks. And this is the image that'll stay with you long after viewing The Big Snatch, a mean and nasty ultra-sexy roughie from the era that made political incorrectness an art form.
Five lovely gals are kidnapped (The Big Snatch, get it?) by two lowlife bastards, Bart and Momo, who haul their beauteous bounty off to some compound in the middle of nowhere, where a pack of savage guard dogs (heard throughout but never seen) make escape impossible.
"I'll call you pigs, and you call me master! You'll do as I say, without question, or be punished," proclaims "mastermind" Bart to his cowering cuties. Meanwhile, Momo, Bart's mute lout of a lackey, parades threateningly around the captives slapping a rubber hose against his hand. (Momo, the credits inform us, plays himself. Not a very creditable credit, to say the least.)
USCHI DIGART (Touch of Sweden), JANE SENTAS (The Adult Version of Jekyll & Hide) and two of the other five girls, submit to every form of sexual degradation Bart and Momo devise for them, while the holdout, Bernice — played by adorable PEGGY CHURCH (The All-American Girl) — frets about her jeopardized cherry and accepts hymenal-safe lesbonic solace from lezzie Lillian.
It's when Bernice is later caught trying to escape that Bart growls, "I'm going to steam your clam open!" and the above mentioned, one-of-a-kind, un-fucking-forgettable, pussy punishment occurs.
So The Big Snatch turns out to be a clambake with master-chef Bart sampling his captive's shellfish one by one — until the girls turn the tables, clip off Momo's dick with a huge wire cutter, and give Bart "a taste of his own medicine" by literally screwing him to death! But there's a sneaky surprise ending which turns out to be the biggest snatch of them all! Distributed by DAVID F. FRIEDMAN, The Big Snatch is a must-see for all card-carrying deviates.