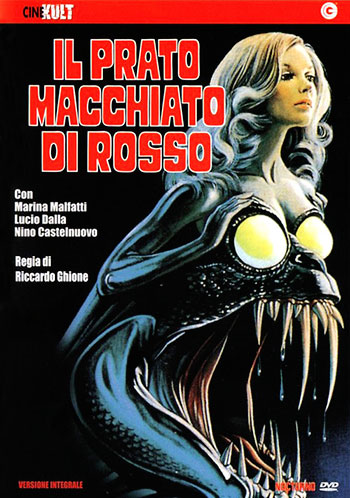 The Bloodstained Lawn (1973)
aka The Red Stained Lawn
aka Il prato macchiato di rosso
Genre: Comedy | Horror | Mystery | Sci-Fi | Thriller
Country: Italy | Director: Riccardo Ghione
Language: Italian | Subtitles: English & Italian
(optional, embedded in Mkv file)
Aspect ratio: Cinemascope 2.35:1 | Length: 81mn
Dvdrip H264 Mkv – 1024×430 – 25fps – 1.20gb
http://www.imdb.com/title/tt0347808/
An agent of UNESCO (nothing to do with the organization UN Protection of Cultural Heritage) discovers that a bottle of wine produced by a famous Italian wine is contained blood. The scene shifts Emilia-Romagna early 70s. A couple of hippies in their wanderings, they come across a certain Antonio accompanying them in the house where he lives with his sister and brother in law. In the sumptuous dwelling the two young people encounter strange characters: a gypsy woman, a prostitute and a disturbing drunk (Lucio Dalla). The host calms them by saying that he is only a producer of wines and loves to entertain strange people. In fact, Mr. Anthony is a madman who has created a mechanism, a kind of robot that can suck blood from human bodies.
This is a hallucinatory, somewhat drug-abuse themed horror movie which is kind of an Italian version of a "Coffin Joe" film like "Awakening of the Beast", and with the same subtext of social commentary. It's about a group of aristocrats (a husband, a wife, and the wife's brother) who are literally draining the blood of the people. They pick up the dregs of society–prostitutes, homeless hitchhikers, etc–and take them back to their isolated villa with its weird crimson-colored "bloodstained" lawn. They feed them drinks and weird drugs and engage them in wild orgies before hooking them to a strange machine which drains all the blood from their bodies,which they then package and sell in wine bottles!
This is an genuinely creepy movie. Enzo Tarascio, who plays the husband, is very creepy looking, especially during the orgy scene where he wears a bizarre, over-sized blue bow tie (which like the red lawn is a very off-kilter and disturbing image). His hard-as-nails wife is excellently played by Marina Malfatti, who was in a number of Italian gialli, usually as the second banana to more famous actresses like Edwige Fenech, Barbara Bouchet, or Erica Blanc. This is is one of her few leading roles and undoubtedly her best. The victims as per usual are a pretty hapless lot. Dominique Broschero plays a prostitute–she was a pretty prolific actress during this period, but I'm not very familiar with her previous work. The busty Barbara Marzano plays a female hitchhiker. She mostly did numerous, usually topless cameos in movies like "Torso", but her most famous role was probably in Ferdinand DiLeo's "The Seduction" where she played the sexually curious best friend of the teenage daughter of the girlfriend of the male protagonist, who he cheats on the teenage daughter with AFTER he cheats on his girlfriend with her daughter! Naturally, she's pretty desirable.
The statement this movie makes about the bottomless appetites of the Italian upper classes and the mindless pleasure-seeking of the lowers classes and the aimless youth is pretty blunt and obvious, but effective nevertheless. Definitely recommended.