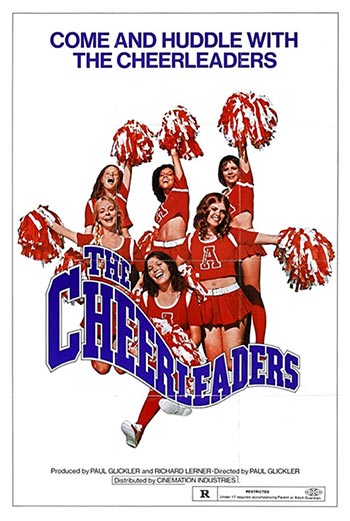 The Cheerleaders (1973)
Genre: Comedy | Erotic
Country: USA | Director: Paul Glickler
Language: English | Subtitles: None
Aspect ratio: Widescreen 1.85:1 | Length: 82mn
Bdrip H264 Mkv – 1280×720 – 23.976fps – 1.70gb
http://www.imdb.com/title/tt0068364/
Audio 2: Commentary by Director Paul Glickler and Writer Ace Baandige
Jeannie, a teenage girl attending Amorosa High, joins the school cheerleading squad as a means of finally attaining the success and social independence that was out of reach in the strict household her parents maintain. The liberated attitude of her new friends becomes all the more evident when they come up with a plan to help the football team win the big game by kidnapping and raping everyone on the opposing team until they're too tired to even take the field..
"The Cheerleaders" is a prime example of a great sexploitation film. It has fun, does not take itself seriously and never goes too long without the promised "action"..
Despite the frequent sex, the movie is overall light and innocent. A lot of the comedy arises from the sex scenes which is sort of unique. Usually in these films the sex scenes are played straight and/or romantic and the sthick is in the rest of the film. Here, sex is part of the sthick and because of that it mixes into the movie a whole lot better..
It's also unusual to have female nudity played for laughs. The rule of thumb in these movies is that male nudity is funny (like in Porkys or Private Resort) and female nudity is sexy. In this movie, female nudity is played for laughs at least a couple times..
Slapstick, sexual slapstick, goofy premise, total reality disconnect, pre PC freedom, impossibly short cheerleader skirts, this movie has it all..
What it also has is a leading lady who's cute with a capital CUTE. Willowy Stephanie Fondue plays Jeannie, a girl who is desperate to lose her virginity but whenever she tries, something goes wrong. That's where the suspension of disbelief begins and you'll have to keep it all through the film. Especially when the cheerleaders come up with thier grand plan of helping thier team win by tiring out the opposing team in a… er… special way.