The First Nudie Musical (1976)
Genre: Comedy | Musical | Erotic
Country: USA | Director: Mark Haggard & Bruce Kimmel
Language: English | Subtitles: none
Aspect ratio: Widescreen 1.85:1 | Length: 94mn
Dvdrip H264 Mkv – 837×480 – 23.976fps – 1.62gb
http://www.imdb.com/title/tt0074533/
Audio 2: Commentary with Director Bruce Kimmel and Stars Cindy Williams, Stephen Nathan
Audio 3: Commentary with Director Bruce Kimmel and Nick Redman
The son of famous studio owner is forced to make porno films to keep the bankrupt studio from being made into a shopping center. In an attempt to get back on the high ground he makes a nudie musical. He makes a bet with the debtors who wish to take ownership of the studio, that if they finance the musical and he can't complete it within two weeks, they can foreclose.
Pornographic filmmaker Stephen Nathan (as Harry Schechter) is seeing red instead of pink. You didn't come to see his "Stewardesses in Cages" and "Teenage Sex Mutants". Consequently, Mr. Nathan's low-budget sex films aren't making money, and the movie studio he manages for his father is about to go down. Telling his investors, "genitalia is boring" at the box office, Nathan is inspired by steadfast secretary Cindy Williams (as Rosie) to change direction, and proposes "The First Nudie Musical". One investor (Hy Pyke) insists wet-behind-the-ears nephew Bruce Kimmel (as John Smithee) be hired as director; and Nathan is given two weeks to create… "Come… Come, Now".
This astounding, and frequently hilarious, film patterns its pornographic plot after Mel Brooks' similar stab at a Nazi musical in "The Producers" (1968); additionally, "The First Nudie Musical" captures the spirit and energy of old Hollywood musicals both directed by Busby Berkeley, and starring Mickey Rooney and Judy Garland. That fresh, irreverent energy is why this film works so well. Full-frontal nudity (female and male) and bad language abound – an "edited-for-television" version would have been short 'n silent in the seventies – but, the vulgarity never seems dirty. Lesser comedies use nudity and language offensively and humorlessly – for examples, see present day comedies.
Paramount Pictures had a "midnight movie" classic on its hands, but had to give the film a cold shower after both Cindy Williams and the studio's "Laverne & Shirley" TV series became immediate hits. To Paramount's credit, they employed fellow "Nudie" travelers Bruce Kimmel (writer, composer, co-director, star) and Stephen Nathan ("Jesus" from Broadway's "Godspell") as guest stars on their program(s). And, it's easy to see why, as the threesome are obviously natural (and underrated) comics. Of the supporting cast-mates, Diana Canova (as Juanita) obviously stands out, due to a combination of heritage, "Perversion", and "Soap" – but, they are all cult classic characters.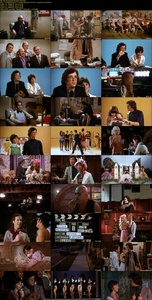 The First Nudie Musical (1976)