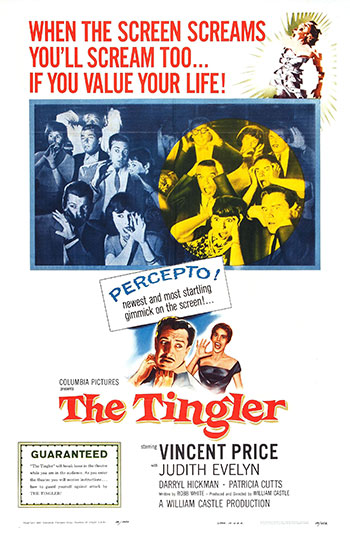 The Tingler (1959)
Genre: Horror | Sci-Fi
Country: USA | Director: William Castle
Language: English | Subtitles: English (.srt file)
Aspect ratio: Widescreen 1.85:1 | Length: 81mn
Bdrip H264 Mkv – 1280×720 – 24fps – 3.28gb
http://www.imdb.com/title/tt0053363/
Dr. Warren Chapin is a pathologist who regularly conducts autopsies on executed prisoners at the State prison. He has a theory that fear is the result of a creature that inhabits all of us. His theory is that the creature is suppressed by our ability to scream when fear strikes us. He gets a chance to test his theories when he meets Ollie and Martha Higgins, who own and operate a second-run movie theater. Martha is deaf and mute and if she is unable to scream, extreme fear should make the creature, which Chapin has called the Tingler, come to life and grow. Using LSD to induce nightmares, he begins his experiment.
"The Tingler" is the name that Vincent Price's likable scientist character gives to the creature that apparently is responsible for the sense of spine-tingling fear we all experience at some point in our lives. If we scream, The Tingler is rendered harmless. If we do not, The Tingler will get us!
This is classic William Castle gimmick stuff. When this black and white masterpiece of schlock was originally shown in theaters, devices would be rigged up underneath theater seats which would "tingle" during a certain scene. The film would then seemingly stop, and the audience would be encouraged to scream! Scream for their LIVES! Of course, the audience was happy to oblige and the Tingler would be defeated.
This film has some really nifty stuff in it. Highlights include Vincent Price's "acid" trip (reportedly the first acid trip ever seen on the silver screen), and a cool hallucinatory color sequence with a deaf mute woman menaced by a bathtub full of blood, among other things. The plot is clever and actually pretty well thought out for a B flick, and Vincent is superb, as he always is. This is an absolutely hysterical film that should not be missed.