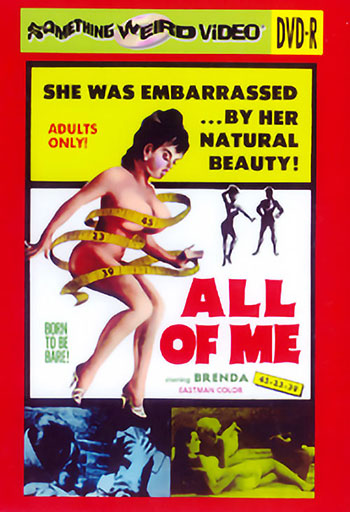 All of Me (1963)
Genre: Drama | Nudie
Country: USA | Director: Joel Holt
Language: English | Subtitles: None
Aspect ratio: 1.33:1 | Length: 68mn
Dvdrip Xvid Avi – 768×576 – 29.970fps – 1.05gb
https://www.imdb.com/title/tt0445173/
Let JOEL HOLT, the narrator of the Olga films, and the star and director of Karate Hand of Death, guide you through All of Me, yet another sexploitation variation on the old Good-Girl-who-comes-to-the-big-Bad-City-to-be-a-model story which unexpectedly detours into Nudist-Camp territory and, of course, bears no actual resemblance to life on this planet.
Big-busted Danielle (Miss BRENDA DE NAUT, the only performer credited on this epic) gets sexually attacked on a New York street and is found unconscious by television producer Bill (Mr. Holt, who directed this under the name "Jay Martin"). After Bill conveniently takes her back to his apartment, Dany tells him the lurid story of her life. Self-conscious about her impressive figure and how men see her as "just a body," Dany wanted to do "something important" and so, dimwit that she is, first entered a beauty contest, then blindly accepted an invitation to come to the Big Apple from one Frankie Tarell, a slimeball who runs "a modeling agency." Telling her that she's perfect to be a "high class" fashion model, Frankie soon has Dany posing for cheesecake shots until – yes, you guessed it – he's the guy who attacks her on the street!
All of which is oddly interrupted by Bill telling Dany he's doing a TV show about nudist camps, is heading out to the Sunny Rest Lodge nature camp, and wants Dany to join him! When she balks, he whips out a 16mm projector and shows her naked footage of naked people spending the day doing nothing while naked. Which, of course, seems like an extremely strange thing to show to a woman who has just been sexually attacked. Nevertheless, Bill tells her a trip into nature will do her good, Dany reluctantly agrees, and the b&w film suddenly switches to bright gaudy color as Danielle enters the world of nudism. Once in the camp, Bill interviews a variety of presumably real nudists – hell, they gotta be real nudists since they're so remarkably ordinary – who stop what they're doing, stare into the camera, and sing the praises of nudity: "I've been a nudist actively since 1930! That's thirty-two years!" And we finally get what we've been waiting for as Dany finally unleashes those two colossal show-stoppers of hers. Ah, how wonderful life can be when you're lollygagging through a nudist camp with a pair of giant boobs bouncing in the breeze….
Written by WILLIAM ROSE, the director of Rent-a-Girl and Pamela, Pamela, You Are…, All of Me is an obvious attempt to make both a Nudie-Cutie and a Nudist-Camp film, and even throws some proto-roughie nastiness into the mix. Which makes a damn fine 1963-style slice of sleaze which, in addition to the interviews with the real nudists, also features a couple of odd monologues from some fictional cheesecake models who stare into the camera and explain: "I got a body! Let 'em look! As long as they pay me!"