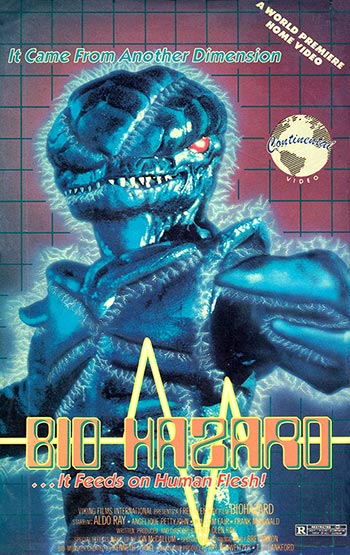 Biohazard (1985)
Genre: Horror | Sci-Fi
Country: USA | Director: Fred Olen Ray
Language: English | Subtitles: None
Aspect ratio: Widescreen 1.85:1 | Length: 79mn
Bdrip H264 Mkv – 1280×720 – 23.976fps – 1.59gb
http://www.imdb.com/title/tt0086967/
Audio 2: Commentary with Director Fred Olen Ray and David DeCoteau
Alien monster uses a psychic to try to take over the earth.
An entertaining, incredibly idiotic, and basically all-thumbs mid-80's earthbound "Alien" clone from the forever fumble-fingered Grade D dreckmonger Fred Olen Ray, who once again shows off his characteristic consummate ineptitude and flagrant disregard for anything remotely resembling professional film-making.
Besides an obviously inebriated Aldo Ray delivering one of his single most horrendous performances as an irascible, constantly tongue-tied army general, Fred's then five-year-old son Christopher shambling about in a pitifully unconvincing rubber monster suit, a hilarious rockabilly ending credits theme song called "Rockabilly Rumble" performed by Johnny Legend and the Skullcaps, and plenty of Fred's patented crappy touches (dreadful acting, some bloody, but phony gore, excruciatingly labored attempts at no-brainer lowbrow humor, a little gratuitous bare female skin, a smug smartaleck attitude which suggests that Ray might be churning out these cheapie clunkers strictly for the money, and dimly lit nighttime cinematography that's guaranteed to make you blurry-eyed), the key reason to give this supremely shoddy stinker a look-see is to watch remarkably buxom erstwhile porn actress Angelique Pettyjohn show off her amazingly ample breasts in a couple of almost literally eye-popping scenes.
Now, what more could you possibly ask for in an admittedly el zilcho two-cent "Alien" rip-off? Well, how about Fred in a quick cameo along with fellow partner-in-schlocky-celluloid-crime Donald G. Jackson (he who blessed us with "Hell Comes to Frogtown") as a medic. Best and funniest moment: When the irate dwarf creature shreds an "E.T." poster and stomps all over it in an angry jealous rage! A deliciously cheesy hoot and a half.