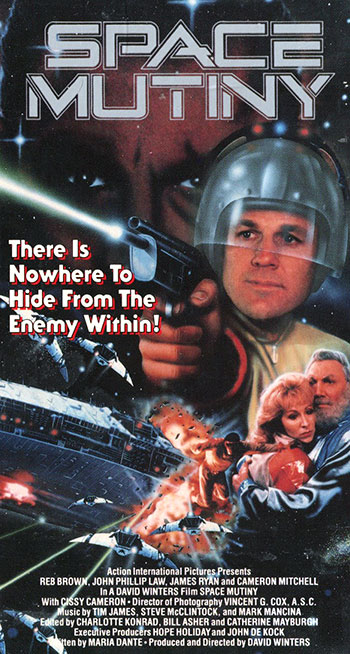 Space Mutiny (1988)
Genre: Action | Adventure | Sci-Fi
Country: South Africa | USA | Director: David Winters & Neal Sundstrom
Language: English | Subtitles: None
Aspect ratio: 1.33:1 | Length: 87mn
Dvdrip H264 Mkv – 704×540 – 25fps – 1.60gb
http://www.imdb.com/title/tt0096149/
The peace and serenity of the spaceship Southern Sun gets rudely disrupted by a nasty gang of mutineers led by the evil Flight Commander Elijah Kalgan (an outrageously hammy portrayal by a constantly scowling John Phillip Law). It's up to mighty macho man supreme Dave Ryder (beefy hunk Reb Brown, who displays all the charisma of a can of spoiled Spam) to stop Kalgan before it's too late.
Poorly directed with jaw-dropping ineptitude by David Winters, further blessed with dreadful acting, rusty tin-eared dialogue (sample line: "Surrender or be blown into astro dust!"), copious special effects footage lifted from "Battlestar Galactica," badly staged action scenes (a protracted chase sequence involving a couple of souped-up futuristic golf carts is especially sidesplitting), laughable costumes, tacky opening titles, cheesy (markedly less than) special effects, crummy sets (the spaceship cargo bay looks just like a rundown old oil refinery — and probably was exactly that!), and the insanely cool-rockin' ending credits theme song "The Edge of A Dream," this gloriously ghastly marvel of all-out celluloid awfulness is an uproariously atrocious riot from stinky start to fumbling finish.
The uniformly abysmal performances from the Hall of Shame Faded (Semi) Name cast provides a lion's share of the unintentional hilarity: Brown projects all the appeal of a smelly plastic bag full of fresh cow excrement, Law cuts loose with the same irritating psycho cackle with appalling regularity, Cameron Mitchell sports a ridiculously fake-looking Santa Claus-style snowy white beard as the wise, gentle Commander Alex Jansen, martial arts movie star James Ryan terribly overacts as the hateful and traitorous cripple MacPhearson, and Graham Clarke sleepwalks through his part as the stolid Captain Scott Devers. Moreover, Cisse Cameron as the spunky Dr. Lea Jansen sure looks cute and steams up the screen with her remarkably sexy hula hoop disco dance. Plus a bunch of yummy psychic alien babes help our heroes out. An absolute cruddy hoot.