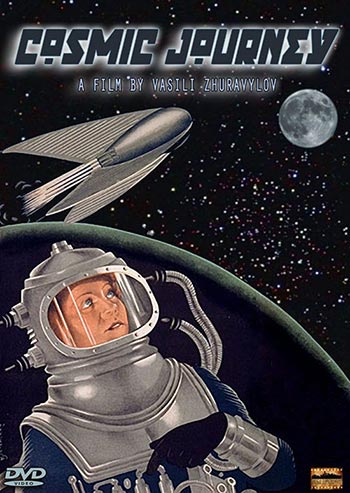 The Space Voyage (1936)
aka Cosmic Journey
aka Kosmicheskiy reys: Fantasticheskaya novella
Genre: Sci-Fi | Adventure
Country: Soviet Union | Director: Vasily Zhuravlyov
Language: Music with Russian Intertitles
Subtitles: English for Russian Intertitles (Optional, embedded in mkv file)
Aspect ratio: 1.33:1 | Length: 65mn
Dvdrip H264 Mkv – 744×576 – 25fps – 1.36gb
http://www.imdb.com/title/tt0252612/
It comes with three audio tracks:
Audio 1: Original Orchestral Soundtrack
Audio 2: Industrial Soundtrack performed by Vetrophonia
Audio 3: Rock Soundtrack performed by Mumiy Troll
In 1946, the Soviet space program is undergoing turmoil. Professor Sedikh, who is planning to lead the first manned exploration to the moon, is denounced by his rival Professor Karin as being too old and too mentally unstable for the mission. Professor Sedikh, aided by his assistant Marina and a youth named Andryusha, disregard Prof. Karin's authority and make a successful landing on the moon. Although a few problems occur at the moon, including the discovery of a damaged oxygen tank and Professor Sedikh's becoming trapped under a fallen boulder, the expedition is a success and the cosmonauts return to Moscow.
"Cosmic Journey" debuted in Russia in 1936. This Soviet fantasy imagined a realistic journey to the moon in the early days of cinema technology. Based on a novel by Konstantin Tsiolkovsky, father of Soviet rocketry, the film's special effects are totally revolutionary for it's time. More advanced in it's technical depictions than Fritz Lang's "Woman In The Moon" (1929) , "Cosmic Journey" is better compared to the groundbreaking "Destination Moon" (1950). Everything from the style of the ships to the weightlessness of space are usually found in films of the '50s than the '30s.
Effects are done on a colossal scale with wide views of the space center and long trucking shots of the giant rockets. The colossal two-stage ships are prepared for launch on an fantastic inclined ramp, an enormous miniature set reminiscent of the British "Things to Come" (1936). The full-sized sets are also vast. By any standard, the effects of weightlessness in space, the incorporation of stop-motion animation and several unbelievable tracking shots were all incredibly advanced for their time.