Ozone! Attack of the Redneck Mutants (1986)
Genre: Horror | Gore
Country: USA | Director: Matt Devlen
Language: English | Subtitles: Dutch (Optional, embedded in Mkv file)
Aspect ratio: 1.33:1 | Length: 93mn
Dvdrip H264 Mkv – 752×576 – 25fps – 1.44gb
http://www.imdb.com/title/tt0144547/
A hole in the ozone layer is responsible for causing a bunch of redneck retards to transform into vomiting, slimy, crusty cannibal killers! Within the opening scene, a sick farmer vomits yellow slime all over his tractor, before collapsing and turning into a bubbling purple headed mutant.
'Ozone! Attack of the Redneck Mutants' is produced by Max Raven and Matt Devlen, who were also responsible for the no budget gore fest 'The Abomination'. Whereas that film was directed by Max Raven, with 'Ozone…' Matt Devlen takes up the director's reigns, and the results are more satisfying than with Raven's film.
There are some nicely shot scenes here, in particular the opening, but the film doesn't hold the viewers attention all the way through and – as with 'The Abomination' – is let down by the appalling 'comedy' dubbing that appears to have been added awkwardly over the action after it was filmed. The comic moments are not funny at all, and it takes a while for the redneck mutants to really spring into action, and for the most part the gore consists mainly of our sliming cannibal mutants vomiting on people's heads and car windows, whilst blood splatter's over the walls! Things pick up nicely though towards the end, once a bunch of rampaging mutants invade a county store where a horrible karaoke contest is taking place, setting the scene for some decent splatter: the top of one woman's head is ripped off; flesh is eaten; a drooling mutant smashes its way into a bathroom to get an annoying blonde woman and bites her tongue out; and a 'big fat mutant' vomits into a fish tank, eats the fish, then starts pulling the guts out of an old woman who is already dead on the floor (having been neck chomped slightly earlier!). These scenes are fairly well done and are accompanied by a nice music score (also used in 'The Abomination').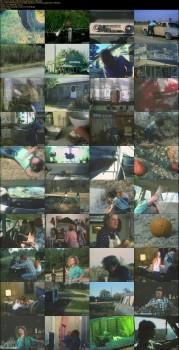 Ozone! Attack of the Redneck Mutants (1986)