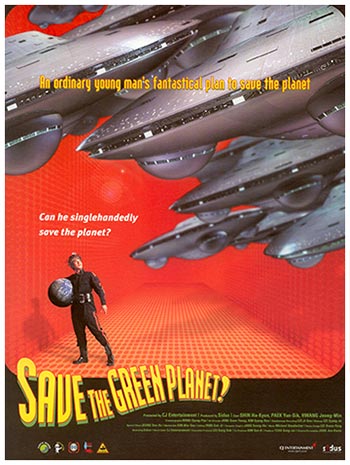 Save the Green Planet! (2003)
aka Jigureul jikyeora!
Genre: Comedy | Drama | Fantasy | Sci-Fi | Thriller
Country: South Korea |Director: Joon-Hwan Jang
Language: Korean |Subtitles: English (Hardcoded)
Aspect ratio: Widescreen 1.85:1 | Length: 117mn
HDWebrip H264 Mkv – 1920×1080 – 23.976fps – 4.60gb
http://www.imdb.com/title/tt0354668/
A traumatized young man abducts Korean leaders, believing they're toxic reptilian aliens – a fifth column launching a takeover of beloved Earth. Stumped law enforcement geniuses half-seriously hire a disgraced, disheveled private detective with a long-ago history of super-crime solving. The alienated South Korean youngster Lee Byeong-gu builds an isolated basement command post/torture chamber/film studio to force the awful truth out of the slimy, uncooperative politicians and businesspeople, then alert the public. Byeong-gu is helped by his devoted girlfriend, who buys his theories, but wonders if his horrible childhood has colored his thinking.
How many films can have you laughing one minute and totally freaked out the next? This movie, "Save the Green Planet", is not for the faint of heart. There are tons of disturbing scenes, but if you able to take everything in you will find an amazing piece of cinema. It's a shame that Hollywood wouldn't have the gall to but out something as amazing as this. This movie will twist your emotions like none other. You will not know who to cheer for, who's doing good, and who's evil. It's a crime to list this movie as a true comedy, it doesn't even fit the mold of "dark comedy", it's a true hybrid of multiple movie styles, only the Korean movie makers have been able to pull this off flawlessly. This isn't a film for everybody, however if you have a true passion for movies, and want to find out what the hype concerning Korean movies is all about, this is the place to go.