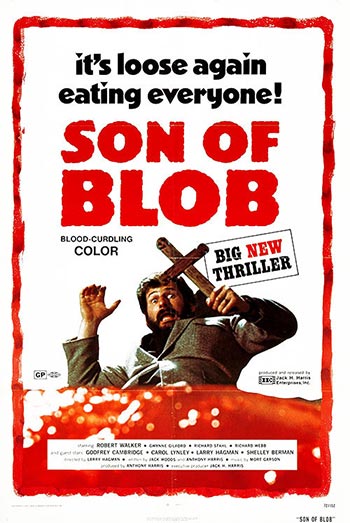 Beware! The Blob (1972)
aka Son of Blob
Genre: Horror | Sci-Fi | Comedy
Country: USA | Director: Larry Hagman
Language: English | Subtitles: None
Aspect ratio: Widescreen 1.85:1 | Length: 87mn
Bdrip H264 Mkv – 1280×696 – 23.976fps – 2.64gb
http://www.imdb.com/title/tt0068271/
A technician brings a frozen specimen of the original Blob back from the North Pole. When his wife accidentally defrosts the thing, it terrorizes the populace, including the local hippies, kittens, and bowlers.
Sometimes it's a raucous farce. Sometimes it's straight horror. And oddly enough for a 70's film, it seems to know when it is being one or the other, and keeps true to whatever it is at that moment.
Watch it for the pea soup-thick 70's atmosphere. You'll feel as if you've entered another world. Watch it for the inventive low-budget special effects. A few shots look pretty nice even today. Watch it for the scene with the bald would-be victim guy in the bathtub, who throws the phone through the window when he sees the gelatinous menace oozing under his bathroom door, and who is then seen running starkers through the streets, shouting, while funny music plays. "Beware! The Blob" is extremely goofy, exciting, brightly-colored fun stuff. It is extremely representative of the era in which it was made.
The story goes that Larry Hagman had a week or two free, and wanted to have some fun. So…he put together a GREAT group of folks for cameos (and red jello, to boot!), and made this grade-z 'horror'! If you want to just have fun…with far more laughs than gasps…it's right up there in the genre of "Attack of the Killer Tomatoes".