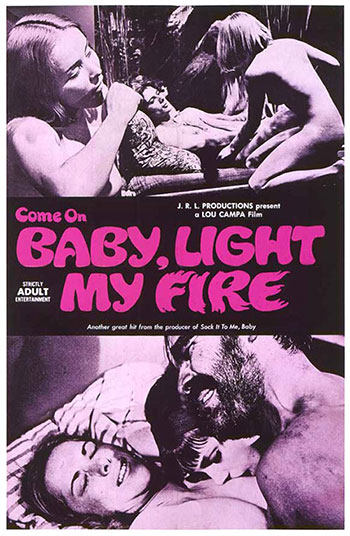 C'mon Baby Light My Fire (1969)
Genre: Roughie | Drama | Softcore
Country: USA | Director: Lou Campa
Language: English | Subtitles: none
Aspect ratio: 1.33:1 | Length: 78mn
Dvdrip H264 Mp4 – 640×480 – 29.970fps – 1.02gb
https://www.imdb.com/title/tt0210559/
A pretty young anti-marijuana activist is kidnapped by a drug ring, which is determined to teach her a lesson by degrading and violating her in every way possible.
For those with depraved tastes, look no further. You'll need a good scrubbing after this one from LOU CAMPA, the producer/director responsible for such nastiness as Mini-Skirt Love, Venus in Furs, and the feel-good flick of 1968, Sock It to Me Baby!
True to form, Come On Baby, Light My Fire starts out dirty and stays that way from beginning to end. June (TINA BUCKLEY) is an anti-marijuana crusader who claims that kids are funning rampant with zero moral values, all because of weed. She's promptly abducted by a band of degenerate drug dealers and a slimy psychiatrist who intend to thoroughly corrupt and change her. After being knocked out and pawed in a car by a ravenous nymphomaniac named Candy, June is taken to the home of Mr. Forman (played in dark sunglasses by pre-Deep Throat smut king GERARD DAMIANO), a wealthy pervert and drug lord who enjoys watching people have kinky sex. Their plan is to defile the virginal goody-goody so that she won't be able to continue her crusade. She's stripped and given to Brad, a horny young dude who's eager to pop her cherry.
But this is just foreplay for the Big Event – June's complete and utter desecration at the hands on Pancho (LARRY HUNTER as a grubby, drooling, disheveled Mexican in a sombrero) who, apparently, wields an enormous member. "Soon you will feel Poncho's love tool. Take in, Gringa!" he yells in a bad accent while the others watch behind a two-way mirror. Pancho drills away at June until she begs, "Please don't stop! I want it all!"
The humiliation continues when Pancho pisses on her violated body. Obviously, Pancho is a very classy guy. The psychiatrist is then asked to brainwash June into becoming completely willing and uninhibited so that she will smoke pot and participate in a wild orgy. They plan on photographing her in action so as to completely discredit and sabotage her mission.) Attempting to break her will, the crackpot doc uses an electric prod on June's private parts when she won't obey his commands. Eventually, Junes spirit is snapped and she's conditioned to give pleasure to her captors like a love zombie. Brad, however, feels guilty about what's happened and – gasp!- has even fallen for the little captive. He devises a plan to rescue June…but not before getting it on with Candy, who claims she's more woman than most can handle…
Shot in the suburbs of New York and featuring Music by THE UNCALLED FOUR, Come On Baby, Light My Fire is pure wall-to-wall sleaze. The great Larry Hunter (The Amazing Transplant, Olga's Dance Hall Girls) is perfect as Pancho, continually referring to himself in the third person, slobbering like an idiot, and laughing maniacally for no reason at all. Shame on you for enjoying this filth.

C'mon Baby Light My Fire (1969)