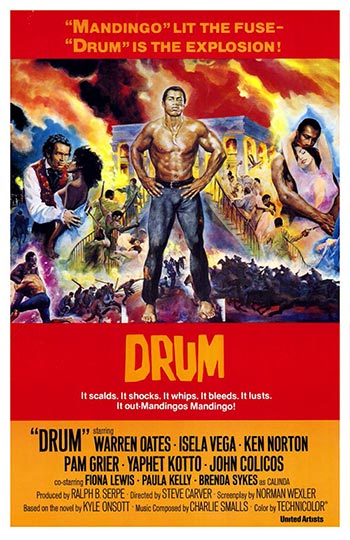 Drum (1976)
Genre: Action | Drama
Country: USA | Director: Steve Carver
Language: English | Subtitles: English (.srt file)
Aspect ratio: Widescreen 1.85:1 | Length: 100mn
Bdrip H264 Mkv – 1280×694 – 23.976fps – 4.82gb
http://www.imdb.com/title/tt0074437/
Audio 2: Commentary by director Steve Carver
The Year is 1860 and the town is New Orleans. A handsome brothel slave named Drum (Ken Norton) is bought by the scheming plantation owner, Hammond Maxwell (Warren Oates) for the sole purpose of siring beautiful slave children. Maxwell will sell the children for up to three dollars each in the market. But others have designs on the attractive, powerful slave too, and many of them are women…
'Drum' is the kinda sorta sequel to 'Mandingo', a movie that tried to walk a fine line between being a "serious" drama and a silly but fun exploitation movie. The director this time around is Steve Carver who made the trash classics 'Big Bad Mama' and 'The Arena', and he doesn't even attempt to disguise the Drive-In feel of this one.
Ken Norton once again stars but plays a different character than in 'Mandingo'. Warren Oates plays Hammond Maxwell who Perry King played in the first movie. The idea that they are the same man is totally ridiculous and unbelievable, but once you can get over that hurdle you are in for a good time. Oates is outrageously amusing but without resorting to the hamminess that James Mason brought to 'Mandingo'. He is simply a joy to watch, as an uncouth but charming slave owner, and is the number one reason to hunt down this movie. Oates terrific performance more than makes up for Norton's dull turn. Also very good is Yaphet Kotto ('Blue Collar') as Drum's friend turned enemy Blaise, also one of Oates' slaves. Kotto is excellent (as usual) and it's a pity he wasn't the star instead of Norton. Fiona King ('The Fury') plays Oates' wife to be and is entertaining, as is Rainbeaux Smith ('Caged Heat') as Oates slutty daughter (a similar role to Susan George's in 'Mandingo' but much more enjoyable). Also noteworthy is John Colicos ('The Postman Always Rings Twice') as a very evil and camp slave owner who vows to kill Drum who spurns his salacious advances. The impressive cast also includes blaxploitation legend Pam Grier ('Black Mama, White Mama') who sadly doesn't have all that much screen time, and Oates 'Bring Me The Head Of Alfredo Garcia' co-star Isela Vega, who doesn't have much more.
'Drum' is pure exploitative trash and proud of it. If you take it in that spirit and not as a serious study of racism in 19th century America you'll enjoy it immensely. Especially when watching Warren Oates in one of his most enjoyable and underrated performances. This movie is essential viewing for all Oates fans.