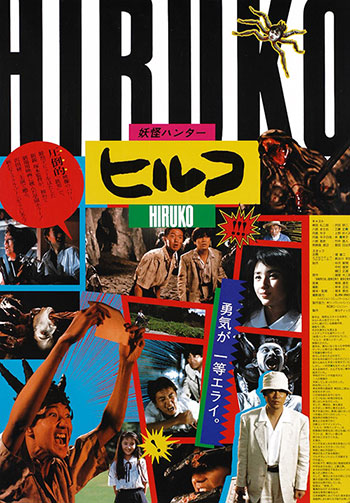 Hiruko the Goblin (1991)
aka Yôkai hantâ: Hiruko
Genre: Horror | Comedy | Fantasy
Country: Japan | Director: Shinya Tsukamoto
Language: Japanese | Subtitles: English (.srt file)
Aspect ratio: Widescreen 1.85:1 | Length: 89mn
Dvdrip Mkv H264 – 768×432 – 1.54gb
http://www.imdb.com/title/tt0100991/
A school was built on one of the Gates of Hell, behind which hordes of demons await the moment they will be free to roam the Earth. Hiruko is a goblin sent to Earth on a reconnaissance mission. He beheads students in order to assemble their heads on the demons' spider-like bodies. Hieda, an archaeology professor, and Masao, a haunted student, investigate the gory deaths and eventually battle Hiruko.
Surprisingly fluffy supernatural adventure film from the director of the TETSUO movies, Shinya Tsukamoto, perhaps done to prove he could apply a mainstream touch to lighter material. As such, it's still got his trademark bodily aberrations and spurting blood. An archaeologist uncovers an burial mound he believes to be some sort of an appeasement to ancient gods, but he and a student are killed by the critters within.
Meanwhile, his colleague (Kenji Sawada), now conveniently a goblin hunter, teams with the man's son to seal off the tomb under the mound before more deaths are caused by the free-roaming goblin, which looks like a human head with spider legs and hypnotizes its victims into a state of tranquil bliss that makes it much easier for them to saw off their own heads. Speedy fun, played with just enough tongue in cheek. Based on a book by Daijirao Moroboshi.