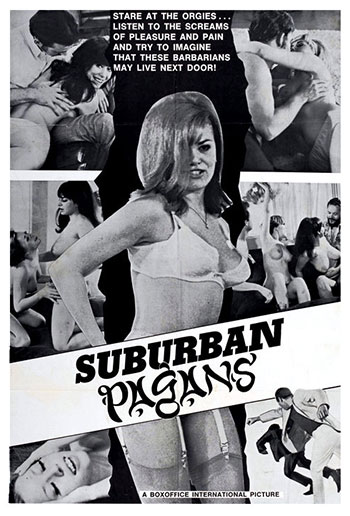 Suburban Pagans (1968)
Genre: Mondo | Erotic
Country: USA | Director: William Rotsler
Language: English | Subtitles: None
Aspect ratio: 1.33:1 | Length: 120mn (movie + 50 mn of trailers)
Dvdrip Xvid Avi – 640×480 – 23.976fps – 1.42gb
https://www.imdb.com/title/tt0063656/
A faux-documentary about wife swapping clubs in the L.A. area. A reporter interviews the vice cop. The first 40 minutes is a semi-sex orgy. The guys do not take off their pants as they make out with the wives. Two of the wives have a lesbian moment. Second sequence features a strip poker match involving the wives as stakes. The final part is a short plot piece about a swapping guy who is filmed and black mailed by the club's owner.
Written, produced, and directed under the pseudonym "Shannon Carse" by cult figure WILLIAM ROTSLER (best known for Agony of Love and Mantis In Lace), Suburban Pagans seems more like one of those cheap 'n' nasty New York flicks churned out by Distribpix rather than the usual color-saturated HARRY NOVAK produced sexploitation quickie.
Set up as a tabloid expose of married swingers in California's San Fernando Valley, TV host George Ferris (JAMES BRAND) interviews police Lieutenant Art Grennel (STEVE VINCENT) for his current affairs show, In Depth. Since Grennel has just busted a 'Sex Swap Club" (as the screaming headline says), he tells us all about the lurid world of wife swapping.
Which is amply illustrated when the film impatiently cuts to just such a party as the infamous key basket is being passed around. As eager hands dip into the basket to retrieve the key which will identify their swap partner, corny dubbed-in dialogue expresses the participants excitement: "Oh, I've got you! Come on, let's do it!" and 1 hope you're not ticklish, he's got a hairy chest!"
Before long, everyone has stripped down to their undies for some extended frolics in the living room as bodies writhe over each other to the accompaniment of some instrumental guitar music. Foot fetishists should enjoy a sequence where two of the girls spend time eagerly sucking each other's toes.
As Ferris continues to grill Lieutenant Grennel with soul-searching questions ("Just how do these groups go about recruiting new members? What's the most unusual swap method you've ever come across?'), the film continually cuts back to what seems to be the same party in progress.
A new girl, Carol, is recruited from the local supermarket and wastes no time in getting into the spirit of things, stripping down to reveal a pair of amazingly pointed breasts—Yipes! Are those real? — and performing a go-go routine while everyone else in the room ogles her in amazement. We also see the men using their wives' clothing as poker chips ("Anybody got change for a D cup?").The seamier side of wife-swapping is also depicted, as a prominent couple are blackmailed after having their extra-marital dalliance photographed…
Even when working totally on the cheap, Rotsler demonstrates in Suburban Pagans that he was still capable of delivering some exciting, well edited and photographed sexual frolics, helped out by the presence of some gorgeous female cast members including faves KATHY WILLIAMS (Office Love In) and the unbilled MARSHA JORDAN (Lady Godiva Rides).