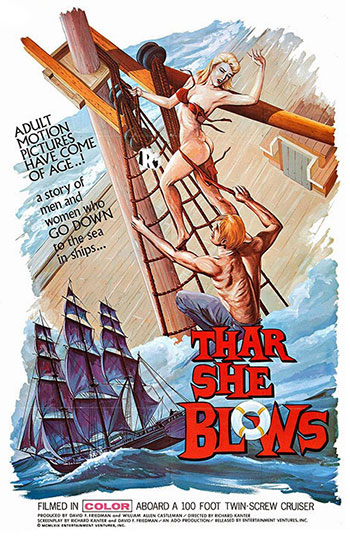 Thar She Blows! (1968)
Genre: Comedy | Erotic
Country: USA | Director: Richard Kanter
Language: English | Subtitles: None
Aspect ratio: 1.33:1 | Length: 85mn + 40mn of trailers
Dvdrip Xvid Avi – 640×480 – 23.976fps – 920mb
http://www.imdb.com/title/tt0128738/
A wealthy industrialist charters a yacht and hires a pimp to bring some women along.
Imagine yourself driving down Main Street in your slick red Shelby Mustang convertible sometime in 1969, when you glance up at the local "art" theater and see Thar She Blows! — at that time the absolute dirtiest movie title you've ever seen — in giant lettering on the marquee. If you're like me, you skidded up onto the sidewalk, ran over a little old lady, slammed into a mail box, leaped out of the car, and rushed in to see yet another slick and glossy DAVID F. FRIEDMAN adult classic.
Crazy Captain Bob Frigate (Space Thing's STEVE VINCENT) has a problem with sex. He hates it. But he has a good reason: midway through balling a hooker, three waterfront thugs attempted to rob him but ended up castrating him with a dock hook instead. (All of which is shown in a scene so startlingly violent and bloody, you're immediately aware that this was, after all, made by the producer of Blood Feast.)
Deeply unhinged and living aboard his "100 Foot Twin-Screw Cruiser," Captain Frigate is not happy to learn that his sister, Sally CHRIS MATHIS), is making it with his first mate, Ron (ALAIN PATRICK, also in One Million AC/DC). Things get even more complicated when his boat is then chartered by a movie producer, his director, Phil Latio (yes, folks, that's what he's called), and nymphettes SHARI MANN, LORI BROWN, and DEBBIE HART.
As the sex spills all over the ship, and with Miss Mann looking uncomfortably similar to the hooker responsible for his pecker plucking, Captain Bob goes completely cuckoo until it all ends with another bloody dock hook…
One seldom praises, let alone notices, the men in the nudies, but much of the enjoyment of Thar She Blows! rests squarely on two of the best actors in the adult film business. Bald and forever middle-aged, STUART LANCASTER chews the scenery as larcenous film producer Kenyon Adler. Best known for his films for Russ Meyer (Mudhoney, Good Morning and Goodbye, SuperVixens, etc.), Lancaster excels in dominant, strong-willed men who are nevertheless easily corrupted by the flesh. Smooth and sleazy, JOHN ALDERMAN (The Fabulous Bastard from Chicago), as Mr. Latio, is like a Dean Martin gone seedy. Both have a distinctive presence that can easily hold their own against whatever bare breasts are in the scene with them. Diametric opposites, they're surprisingly terrific when paired with each other; so much so that Friedman quickly teamed them up again — in fact, they play the exact same characters — in Starlet, later the same year (where they were also joined by Misses Mann and Mathis).
Boats, boobs, and blood: this is what a romantic cruise is all about. Aye, aye, skipper!