The Monster of Camp Sunshine (1964)
aka The Monster of Camp Sunshine or
How I Learned to Stop Worrying and Love Nature
Genre: Comedy | Horror | Nudie
Country: USA | Director: Ferenc Leroget
Language: English | Subtitles: None
Aspect ratio: 1.33:1 | Length: 74mn
Dvdrip Xvid Avi – 704×528 – 23.976fps – 1.08gb
http://www.imdb.com/title/tt0126456/
Having a monster chase naked people around a nudist camp sounds like such surefire motion picture entertainment that it's shocking to realize that this and The Beast That Killed Women are, apparently, the only two of their kind — and this one took 29 years to get released!
Marta, already jittery after having watched "Dracula meets the Beatles" on TV, goes to work at an experimental lab. When she accidentally exposes some rats to a mixture of chemicals, "their killer instincts are unleashed" (as a title card eagerly informs us). The rats immediately leap all over Marta who ends up hanging out a window, dangling against the side of the building. ("Help!" reads another card.)
Co-worker Dr. Harrison immediately disposes of the dangerous liquid: "Thank the good Lord we've got scientific techniques to get rid of vile, vicious substances like that! And I got rid of it alright, you can be sure of that!" Meaning, he chucks the jar of chemicals into the East River.
Meanwhile, Marta's roommate, Claire, models the (then new) topless bathing suit, reads Urban Nudist magazine, and suggests that Marta and some friends celebrate her birthday in the nude at Camp Sunshine.
Unbeknownst to them, however, the chemicals that made the rats go nuts drift into a stream that tubby Hugo, Camp Sunshine's simp gardener, drinks from. Hugo immediately turns into The Monster of Camp Sunshine, prowling the grounds of the nudist camp with an axe and wearing a wig that makes him look like a mutant Moe Howard.
As Dr. Harrison parachutes into the camp with the antidote, the monster attacks Marta. But the military suddenly arrives in the form of an insane barrage of stock footage incorporating shots from World War II, World War I, and scenes from a Civil War flick! After bombing, blasting, and blowing the bejesus out of the monster, all that's left of him is… a little sponge.
Yow. An incredible, utterly berserk, never-before-released nudist camp horror comedy with wonderful Monty Python-like animated credits, someone named RON CHENEY, JR., and, at the end, "a brief summary of the movie for those who wish to relive its magic moments." We found the original 35mm negative to this forgotten gem on the top shelf of an old film vault where it was gathering dust since 1964. Enjoy it while downing your favorite toxin.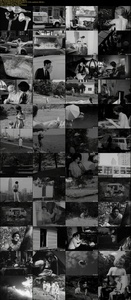 The Monster of Camp Sunshine (1964)